Most people likely think Hillary Clinton when they hear the words "unexpected suicide". But it is looking more and more every day like her good friends in the pharmaceutical industry might all know Larry Nichols.
Who commits suicide by stabbing themselves in front of their little girl?
It is with a heavy heart that we announce that Dr Dean Lorich was found dead this afternoon, Sunday, December 10th in his Park Avenue, Upper East Side home. He was 54 years old.

Police instantly began treating the death as suicide and said the doctor was under "some personal stress," so that was likely the reason he put a knife through his torso  (not his heart) knowing his 11-year-old daughter would find him on the floor, bleeding out.
No suicide note was found. His wife was just out playing tennis. Things were for the most part good. What makes police think he flipped and suddenly got the urge to stab himself to death in the same vicinity of his young daughter?
So just to recap, an MD- the father of three girls, associate director of the Orthopaedic Trauma Service at the Hospital for Special Surgery, a professor at Weill Cornell Medical College (where our 79th doctor, Dr Crespo, was found dead just days ago, also in a bathroom)- went into the bathroom when his wife was gone and he was alone with his child, and stuck a knife into his torso. Though nearly nothing about this is plausible, ALMOST IMMEDIATELY cops say no foul play, he was stressed.

After his daughter found him she alerted the building's doorman, who called 911. Police said the call was regarding an assault, as naturally, sources say the doorman (maybe smarter than the cops?) thought he must have been attacked, not put a knife in his own torso. When the cops found the 54-year-old doctor's body in the bathroom around 1 p.m., the knife was not in his heart, but close they say.
The police stated "suicide" less than 5 hours after arriving on the scene – was this really adequate time to do a thorough investigation?  Or was it like the time Peter Smith was found dead?
While this only happened this afternoon, it's already been in the news for 5 hours. How they could even have examined the body yet in Manhattan boggles my mind.
But no this was already their conclusion.
Police said the death was being treated as a suicide, though no note was found, and that the body was discovered by Lorich's daughter. His wife, Deborah, left, was out playing tennis
Dr. Lorich's colleagues, Dr. Crespo was also found dead a few days prior.
Our hearts go out to his family and friends. Both Lorich and Dr Crespo were found dead within days of each other in Manhattan, both of Weil Cornell, we won't stop reporting on all these deaths until we get answers that make actual sense.

Again, both Lorich and Crespo worked at the same hospital. Lorich, the winner of the "2010 Roger E. Joseph Prize by Hebrew Union College for his humanitarian efforts in treating victims of the recent Haiti earthquake and in Landstuhl, Germany treating soldiers injured in Iraq and in Afghanistan" (the award recognizes individuals making lasting contributions to the causes of human rights), who was beloved and an asset to the medical community and Crespo, who was researching cancer with the use of stem cells, have both just died within days of each other, under suspicious circumstances.
The New York Daily News, however, is suggesting that Dr. Lorich committed "suicide" because this man was threatening him.
An acclaimed trauma surgeon who apparently committed suicide by plunging a knife into his chest was in the middle of a legal battle with a former Giants running back who says the doctor ruined his career.

Ex-player Michael Cox said in a lawsuit that Dr. Dean Lorich botched his care after performing surgery on a leg Cox fractured in 2014 during his second season with the Giants.

Police are treating Lorich's death Sunday as a suicide, sources said, with one noting, "He was under some personal stress."
But, an angry footballer trying to make some cash to compensate for squalling his millions while laid-up is hardly a career-halting set-back. Plus, the hospital itself dismissed this lawsuit as nothing more than "allegations".
North said Lorich likely wouldn't have been responsible for paying any possible settlement to Cox, explaining the physician was covered by the hospital's insurance policy.

Asked for comment on the May 2016 lawsuit, a Hospital for Special Surgery spokeswoman said the medical center "does not comment regarding pending litigation. We are in the process of vigorously defending the allegations against HSS and Dr. Lorich."
And make no mistake the reason this lawsuit is occurring is because this former millionaire athlete's career was over, and settlement lawsuits make for a pretty paycheck.
Although the doctor fixed Cox's fractured fibula, or calf bone, he didn't properly treat his injured talus, a major ankle bone, said Steven North, Cox's attorney."It was not even addressed during the subsequent office visits by cleaning it out," North told the Daily News on Monday.

"It got worse and worse and worse to a point where ultimately, Michael went to different doctors, had multiple surgeries, and his career was ruined — he cannot play football anymore."
Now, of course, anything is always possible, but Dr. Lorich was an internationally renowned orthopedic specialist, it seems very improbable that he would have neglected to address such obvious symptoms as alleged by Michael Cox in the lawsuit
His track record is stellar.
The surgeon treated U2 frontman Bono in 2014, after the musician was hurt in a bicycling accident in Central Park.

He was also among the doctors who helped NYPD Officer Tarrell Lee after an SUV hit Lee in September 2005, while he was directing traffic in Midtown.

Another patient was Matt Long, a firefighter who was struck by a bus in December 2005. In addition to being doctor and patient, the men became friends, a grieving Long told The News on Sunday.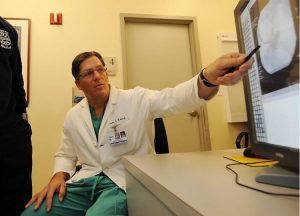 This is not a flux or a strange random unexpected occurrence. There is a disturbing pattern emerging.
Check out these resources to learn more:
Who is killing all of the holistic doctors?
Another holistic doctor found dead hanging from a noose
Yet another holistic doctor found dead
Now many of these involve holistic doctors, but many of them are also connected to those researching cancer and other alternative treatments, just like Dr. Lorich, and Dr. Crespo.
The list of doctors found dead under unusual circumstances now totals 81.

Source: Health Nut News, Natural Society, Daily Mail, NY Daily News