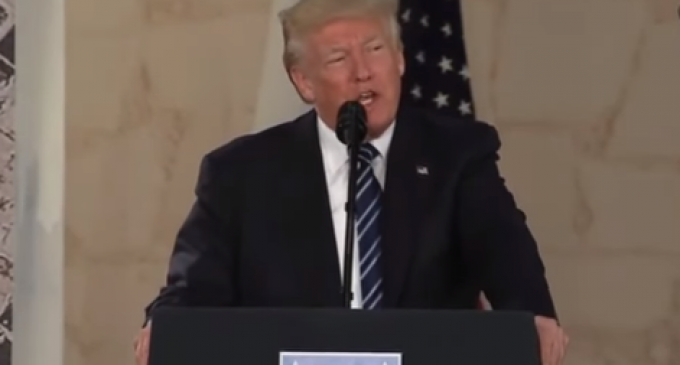 King Herod is and was known as the single greatest builder in the ancient lands of Israel for his ability to transform the landscape seemingly at his whim from desert and rock to the grand splendor of mansions, gardens, temples, aqueducts and amphitheaters.  At one time, he had directed vast amounts of water to the series of fortresses in the Judean Desert, including to the famed Masada and Herodion.
For many in the modern world, invoking the title of "great builder," there are many who say that Donald J. Trump is brought to mind.  Trump is perhaps one of, if not THE, greatest builder of modern times.  When Trump became the 45th President of the United States, he immediately set to work with an ambitious agenda of modernizing, renovating and creating an American infrastructure that will be unrivaled anywhere else on the planet.  Across the world, even in the lands of Europe where ingenuity is part of the overall perception of places like Germany and France, the quality and technological advancements of infrastructural foundations and techniques pales in comparison to those of the United States.  And President Trump, the builder, understands this.
In his recent trip to Israel, where both he and his wife were received with both grace and genuine affection by Prime Minister Benjamin Netanyahu and his wife, Sara, the president brought a message of unity and cooperation in the spirit of Ronald Reagan's unparalleled close bonds with the Jewish Kingdom.  He also traveled with a plan that will, on its face and in its hope, transform the bonds of distrust and animosity between Israel and the Palestinians into a relationship of brotherhood and mutual respect.
The Trumps arrived to a small fanfare and met with the host family to spend an afternoon together that was in stark contrast to the outright disrespectful attitude displayed by the former president upon his visits to the ancient biblical lands.  In a joint speech to the press, Netanyahu praised the work of the president on his work and efforts on behalf of the Israeli people and his message of hope and unity.  In so doing, he also made a remark that Donald Trump had brought dignity and true leadership back to the Middle East, something that had been absent there for so many years.  This of course was an obvious jab at former President Obama who had treated Israel with about as much respect as he treated White Americans.
Trump unveiled an ambitious plan to help the Israeli people, once and for all, put to bed the raging fury that the Arabs appeared to house toward the Jewish nation.  It involved something that Trump is intimately familiar with and that at which he happens to be an expert.