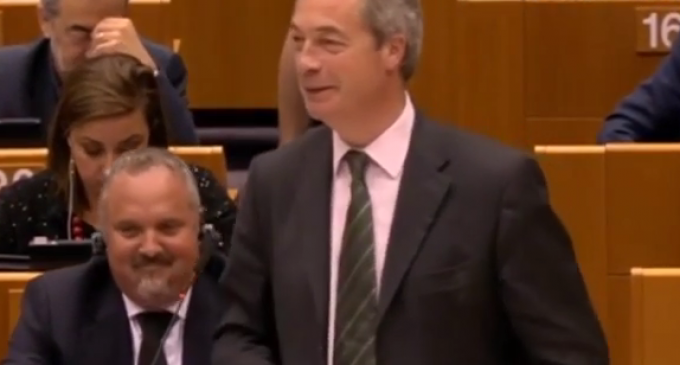 Nigel Farage gave a smashing speech today at the EU Parliament where he victoriously pointed out that this historic event began 17 years prior, when he decided to lead a campaign to get Britain to leave the European Union.   He reminded the hecklers that they laughed at him back then, as he chided, "You're not laughing now, are you?"
The bureaucrats in the Brussels EU Parliament immediately began heckling and booking Mr. Farage as he stood to address the assembly, which resulted in the President Martin Schult to interrupt and remind the politicians, "One major quality of democracy is that you listen to those even if you don't share their views."
As soon as Farage begin to speak, he was booed and heckled by EU bureaucrats, even to the point of forcing EU President Martin Schulz to remind them, "One major quality of democracy is that you listen to those even if you don't share their views."
Farage spoke these words after the victory for Brexit occurred:
We Americans have July 4th, and the Brits now have June 23rd.
In the words of Nigel Farage, leader of the the UKIP and top proponent for the United Kingdom to leave the European, the Brexit vote was Britain's "Independence Day."

June 23rd will be the day that the British people filed their papers to divorce a global bureaucracy that buried national sovereignty in bureaucratic red tape. After constant failures that left many Brits without jobs and living in a nation being colonized by migrants with no attachment to British culture, enough was enough.

After almost three decades of rule, globalism was witnessing a Judgment Day and Brexit represents a nationalistic movement that has laid in wait for two decades; a movement that is jumping the pond to the United States and finding a home with Donald Trump's "America First" campaign.
View Farage's feisty speech on the next page and his assertion that the UK will not be the only European country to pull out of the EU.