London Mayor Sadiq Khan may be worried that allowing President Trump to visit the city might threaten world peace and liberal "positive vibes", but curiously enough oddly silent on his city's soaring crime rights.
To most mayors, knowing little girls were being genitally mutilated, prone to rapes and acid attacks, not to even mention the terror attacks and other violence, would be A FULL BLOWN CRISES. But, not to British-Pakistani Muslim Mayor Sadiq Khan.
In Britain's capital over the past year, Khan presided over rises in knife crime, gun crime, theft, burglary, rape, homicide, and more. And not just by a little bit, either.

Parking the anecdotal evidence of Khan giving preference to genital mutilation-linked groups, and using his platform to agitate against the U.S. President, the statistics reveal a terrifying incompetence in keeping London safe — one of the mayor's core areas of responsibility.
Data from the "Mayor of London's Police and Crime Office" reveal horrifying statistics.
From the years 2015/16 to 2016/17, homicides in London rose by 27.1 per cent. Youth homicide jumped 70 per cent. Serious youth violence was up 19 per cent. Robbery was up 33.4 per cent, while home burglaries rose by 18.7 per cent.

Theft went up by over 10,000 incidents in a year, up 33.9 per cent, and there were more than 4,000 additional knife crime incidents under Khan than under his predecessor, a rise of 31.3 per cent.

Rape in the capital rose by 18.3 per cent, while there were 2,551 incidents of gun crime, representing a rise of 16.3 per cent on the previous year.
This chart compares the data from November to October in the years 2015/16 under Conservative Mayor Boris Johnson and 2016/17 under "Progressive" Mayor Sadiq Khan.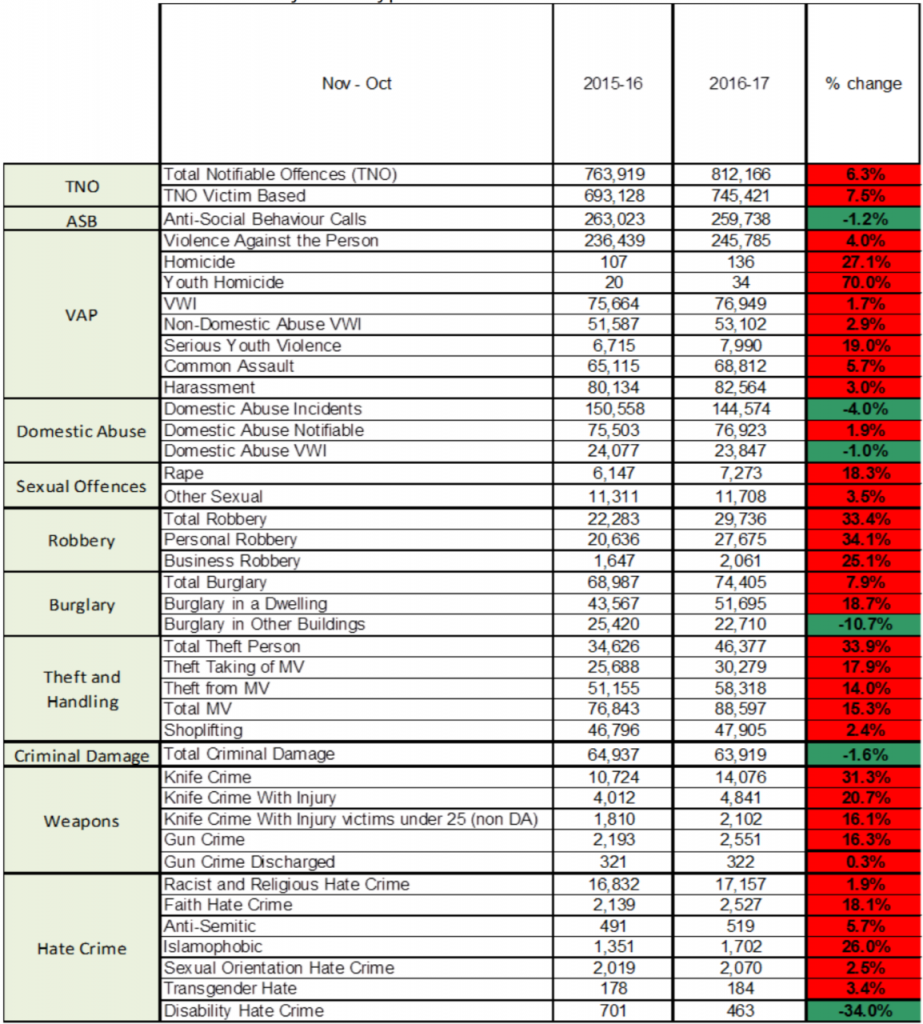 London is now the most dangerous city in the Western world.
Earlier this year London overtook New York City as one of the most dangerous capital cities in the Western world. The House of Commons recently revealed the UK capital has more acid attacks per capita than any other city in the world.

The Guido Fawkes blog notes: "In the years before Khan became mayor the numbers had fallen significantly – the Tories had got the numbers down to between 10 and 15 deaths of young people per year from over 30" and asks: "Why isn't Sadiq facing more pressure on this? It should really be a much bigger story…"
Why do you think this isn't a bigger story?
But, heck Mayor Khan has managed to ban "sexy advertising".
Wonder why that hasn't stopped the rape rates… I seem to recall hearing once about these countries where women dressed from head-to-toe in black but were treated like animals. Hmm, what religion or culture was that?
There is much more at stake than just the election of a mayor.
Source: Breitbart