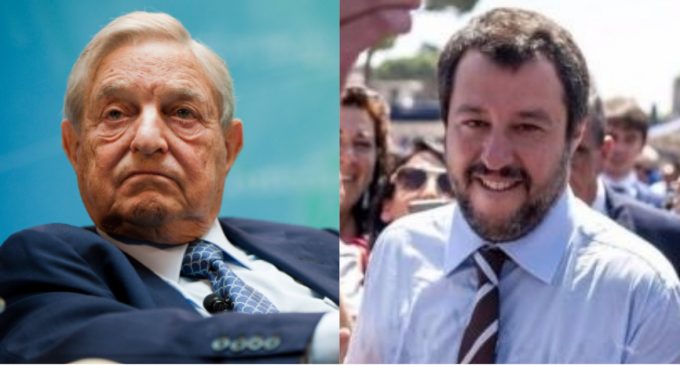 Billionaire elitist and hardcore leftist George Soros is beside himself with regards to the new anti-globalist government in Italy and has begun not only taking aim at the country but using the current feud to elevate the proxy war he has with Russia.
Last week, Matteo Salvini, the new leader of a coalition between the right-wing Lega party and the populist 5-Star Movement, stepped into his new job as Minister of the Interior and Deputy Prime Minister. His pledge to deport hundreds of thousands of illegal immigrants has George Soros and the global elitist cabal up in arms and issuing threats.
Soros is getting quite desperate these days as Poland, the Czech Republic and Hungary have all notably resisted Soros's infringements of their sovereignty. Soro's native Hungary has gone so far as to force Soros' Central European University to move from Hungary to Vienna. It's the latest in the battle between Soros and Hungarian Prime Minister, Viktor Orbán, who has made very brave declarations that the billionaire leftist is "ruining the lives of millions" and that he has "issued a declaration of war" against his own country.
"The Soros network has an extensive sphere of influence within the European Parliament and other EU bodies," Mr. Orbán said last October and added: "Its aim is to build a Europe of mixed population and to condemn the Hungarian government for opposing their view on migration."
Turn the page for details on the latest battle Soros has with Italy and how he is using it to fuel the neverending war with Russia: