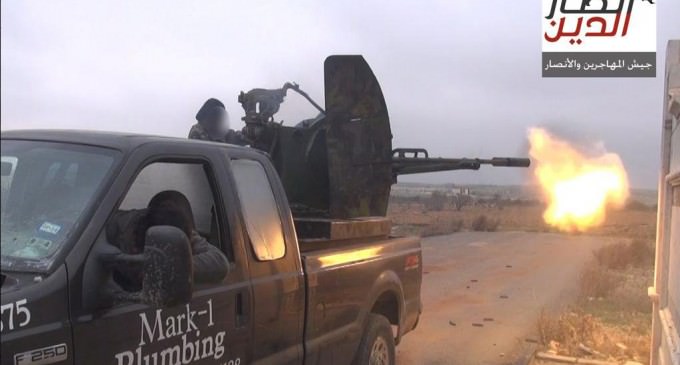 When Mark Oberholtzer started receiving threatening phone calls about his support of ISIS, he knew he had a problem. The Mark-1 weapons platform had debuted on a Syrian battlefield and jihadists will never want an import again.
Evidently he sold his 2005 F-250 pick-up to Autonation Ford Gulf Freeway and somehow it made it's way through an auction to a port in Turkey and then on to Syria. Once in Syria, his F-250 enjoyed a new life in the hands of it's ecstatic new owners.
It became a gunship. Or… a gun-truck? It became an ISIS weapons platform for sure. The Jaish al-Muhajireen wal-Ansar were all too happy to have some American horsepower after so many anemic import trucks.
Mark Oberholtzer had to close up shop for a week to escape the attention but he FBI, Homeland Security and the media refused to let him be.
See the next page for how the world came to know Mark's truck was in ISIS hands.