After Comedy Central's The Colbert Report featured Mark's truck, things went downhill fast.
From RT News:
Colbert joked that Syria "is going down the toilet, but for the first time, they know who to call to unclog it."

By the end of that day, "Mark-1's office, Mark-1's business phone, and Mark's personal cell phone had received over 1,000 phone calls from around the nation," ranging from degrading to expletive-laced death threats, according to the lawsuit filed in Harris County by Oberholtzer's attorneys. Up to 200 calls per day continued to come in over the next three weeks, and the plumber still gets calls to this day, especially after Islamic State (IS, formerly ISIS/ISIL) commits an atrocity somewhere, the lawsuit said.
Seeing the truck with it's "Mark-1 Plumbing" decals thundering across the Syrian landscape is both frightening to us and a testimony to the ingenuity of jihadist organizations who simply show up at auctions and buy what they want.
Perhaps the Obama administration could follow a few bills of sale and figure out exactly who they need to thwart to stop this. More likely, the administration will ignore it and hope it goes away. They same way they do with Islamic terrorism.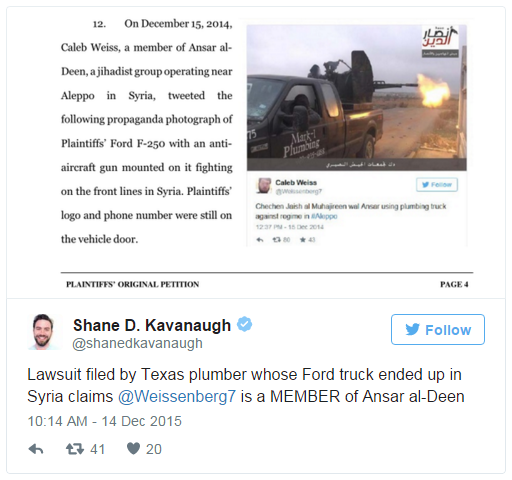 See the video:
https://www.rt.com/usa/325919-texas-plumber-jihad-truck/
https://www.rt.com/usa/325919-texas-plumber-jihad-truck/