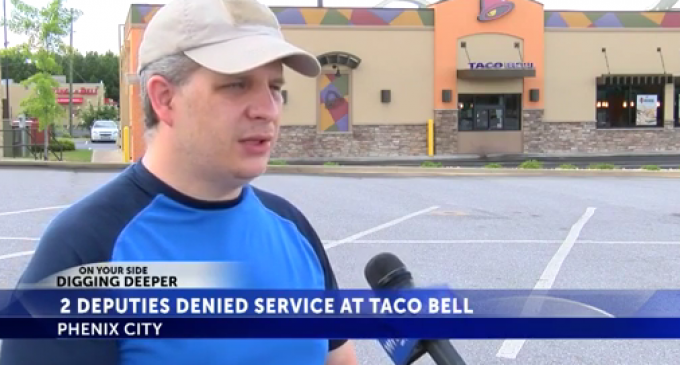 A Taco Bell, in Alabama, refused to serve a Deputy Sheriff from Lee County, who came in to grab a meal on his shift. Tammy Bush Mayo, wife of the Deputy, wrote on her Facebook page describing what happened to her husband, saying that he was informed that "they don't serve cops".
This hate the men and women in blue, promoted from the highest leader of the land and spread like cancer through the likes of #BlackLivesMatter, must be stopped.  These officers put their lives on the line everyday for the employees of Taco Bell and their patrons.  At the very least, restaurants like this, should graciously comp a drink or even a meal, as a small token of gratitude to the police who keep them safe.
The assault on the police continues. In the wake of the Dallas police massacre, many store owners are supporting the anti-police movement by not allowing local law enforcement on premises.
A Washington State sheriff was stunned to learn his deputies were no longer welcome to eat lunch at a local Asian restaurant.
Four Skagit County, Washington, deputies were having lunch at the Lucky Teriyaki restaurant in Sedro-Wolley earlier in the week. When two of the deputies approached the cash register to pay there bill, the owner told them they were no longer welcome to eat at his restaurant, according to a post by the sheriff on the department's Facebook page.

Sheriff Will Reichardt was stunned to hear of this. He had his chief deputy contact the owner to confirm the information. "The owner not only repeated the request but asked that we spread the word to other law enforcement that they were no longer welcome either."

While this is an upsetting — and clearly illegal — development, it only makes it easier to decipher which businesses aren't worthy of patronage.
Read the rest of the story on the next page.