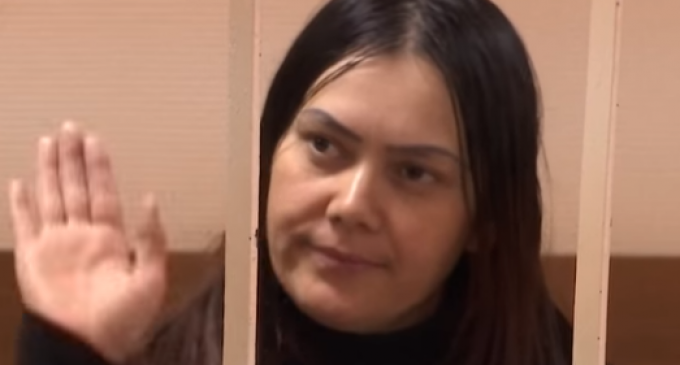 Smiling, while sitting in court, Gulchekhra Bobokulova, 39, of Uzbekistan, plead guilty to murder charges, after she proudly displayed the severed head of the toddler for whom she was hired to care, in the Oktyabrskoye Pole metro station in northwest Moscow.  Her behavior in court, underscores her instability, but her claim the 'Allah ordered me to do it', makes this a hate crime committed by a psychopath.
Moscow is the home of 2.5 million Muslims and has encountered radical Islam in a gruesome fashion.  The images of the burka clad woman, lifting high much like a trophy, the severed head of the child she was hired to care for, have sent the residents Moscow reeling.
Once again, radical Islam has claimed an innocent life.  Bobokulova screamed her allegiance to terrorism and Allah, while she callously lifted the child's head into the air.  Her hate-filled speech was captured on video and testified to by witnesses.  Truth and Action reports the testimony of many witnesses, many who most likely testify at Bobkulova's murder trial.
'I heard her yelling 'Allah Akbar' at least three times. And hitting herself on her chest.

'She was yelling something in her language. She ran to a cafe and started shouting: 'It's all you! All you!'

According to local reports, she later told police she killed the girl because of her own husband's infidelity. Investigators immediately ordered a psychiatric test of the woman in a bid to understand her motives.

One eyewitness at the underground station told MK how the woman screamed: 'My child was killed…I will blow up everyone.' She also shouted: 'I hate democracy'.

A journalist working for RBC daily, said she had heard the woman screaming 'Allahu Akbar' (God is Great). 'I was on my way to the metro station from home,' Polina Nikolskaya said.

Another witness said the woman shouted that she would 'kill everyone, blow up everyone'.

'She was standing near the metro entrance and caught my attention because she was screaming Allahu Akbar,' she said.
View the disturbing smiles and the waving to the people within the court in the video on the next page.