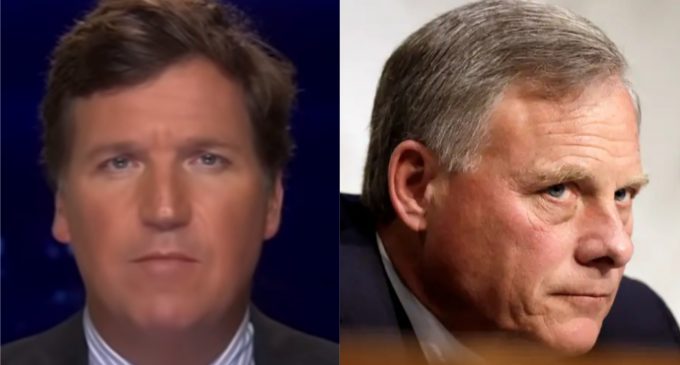 Records reveal that Senate Intelligence Committee Chairman Richard Burr, R-N.C., liquidated up to 1.7 million in stocks just before the market dropped in February amid fears about the coronavirus outbreak while he simultaneously downplayed the outbreak to the public. NPR obtained a recording where he issued a dire warning about the virus to members of a private club.
You might remember how the the "sleazy RINO", as Mark Levin once called him, helped legitimize the Russia collusion investigation into Donald Trump by subpoenaing the President's son, Trump Jr., by dragging him in front of the Senate Intelligence Committee a day after Senate Majority Leader Mitch McConnell took to the Senate floor to declare "case closed."
Fox News's Tucker Carlson is calling for the South Carolina senator to 'resign and face prosecution', accusing him of using 'inside information' to save himself money by dumping hotel stocks. It's illegal congressional members to use information the public doesn't have that is obtained through their positions as lawmakers to trade stocks.
Interestingly, Burr was among only three senators who voted against that measure in 2012.
See Tucker Carlson call out the Senator on the next page, as well as discover another senator who has come under fire for similarly selling stocks before the market took a dive.