The Middle East has been engulfed endless regional wars, but a recent development could lead to an even bigger war than those of years' past, with bigger, more dangerous countries.
While today's news of Israeli financial support for Syrian insurgents came out of left field, our earlier assessment following the report of "turmoiling" Syrian rebels in the aftermath of the Qatar crisis still stands, namely that "the next major regional conflict appears set to be between Saudi Arabia and Iran. All it needs is a catalyst."

That catalyst nearly presented itself overnight, when the Saudi information ministry said the Saudi Royal Navy allegedly foiled an attempted terrorist attack on a major offshore oilfield in the Persian Gulf on June 16, when it captured three members of Iran's Revolutionary Guard Corps from a boat as it approached the kingdom's offshore Marjan oilfield. The Saudi Center for International Communications added that the boat carried explosives, and the Iranians aboard "intended to carry out terrorist act in Saudi territorial waters."

Quoting an "official source", the Saudi SPA news agency said that just after midnight on June 16, 2017, three boats bearing flags in white and red flags rushed to the Marjan offshore oil field off the Eastern Province. The navy fired warning shots but were these were ignored by the assault boats. It said one of the boats was subsequently seized and found to be "carrying weapons for a sabotage target." The other two boats escaped.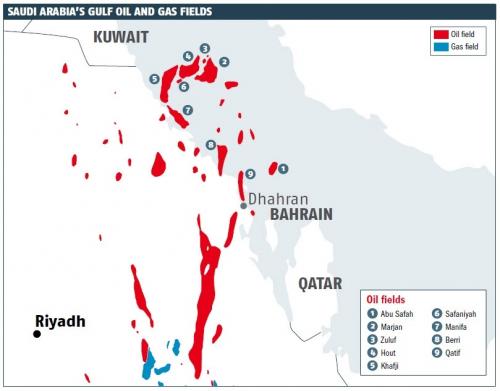 The Saudis claim to have captured three Iranian elite officers, while the Iranians claim those captured are fishermen:
Saudi Arabia detained three members of Iran's Revolutionary Guards near the offshore Marjan oil field, the Saudi Information Ministry has said in a statement. A senior Iranian official dismissed the claim, however, stating the three detained men were fishermen.

The incident happened on Friday, when three boats entered Saudi territorial waters and headed towards offshore structures at the oilfield, the Saudi Press Agency (SPA) reported on Monday, citing an official source.

"On Friday, 16th June, three small boats, bearing red and white flags, entered the Saudi territorial waters in the Arabian Gulf. They headed at speed towards platforms of Saudi oil field of Marjan. Immediately, the Saudi naval forces fired warning shots, but the boats did not respond," SPA quoted the source as saying.

One of the boats was intercepted, while the two others managed to get away. The seized boat contained a stash of "weapons for subversive purpose" and had three men onboard. The three men turned out to be members of the Iranian Revolutionary Guard Corps, the Saudi Information Ministry said in a statement on Monday.
With the constant stream of potential war catalysts coming from the Middle East, it's only a matter of time before one of them sparks the next big conflict in the region. The question isn't if, but when, and which one.
Source: Zero Hedge, RT