Last Friday night, Allred went on another Trump rant that certainly crossed the line of the social media site's guidelines.
Trump is a f*cking joke. This is all a sham. I wish someone would just shoot him outright."
The backlash to the tweet was immediate so he quickly deleted it. But he also defended himself 25 minutes later in another tweet: "saying you wish donald trump was dead is different than making a direct threat against him. just saying…"
Also that weekend, he posted the infamous decapitation photo of Kathy Griffin holding up Trump's head. Apparently Allred is unfamiliar with the adage, "Once you're in a hole, quit digging."
Allred is listed as an adjunct instructor in the Gender, Sexuality and Women's Studies program at Montclair State University. However, after his latest anti-Trump tweet, his bio was removed from the university's website.
This incident is not the first time the professor has run afoul of university administrators. He previously taught at Rutgers University, where he distinguished himself with attacks on white people and his support for Black Lives Matter.
In 2015, Allred also tweeted that "until the entire system changes there are no good white people. There are only less bad white people." He responded to The College Fix's request for comment at the time by saying whiteness "plays an invisible role in dominating and oppressing everyone else. And I'm speaking about a U.S. context specifically here."
He was hired by Montclair state to teach a popular culture course revolving around the politics of Beyonce, "Politicizing Beyonce" beginning this fall.
That says all that's needed about the current state of academia in America.
After Donald Trump won the 2016 election in November, he used Twitter to attack Trump and white people in general.
Will the Second Amendment be as cool when I buy a gun and start shooting at random white people or no …?"
He tried to defend the tweet about shooting white people by claiming there was no direct threat involved and that it was "was a hyperbolic question posed to show a double standard."
Spoken like a true academic in gender studies. A complaint to Rutgers prompted a mandatory psychiatric evaluation.
A Rutgers official said at the time "we take those allegations very seriously and have an obligation to investigate." Twitter also reportedly responded by suspending Allred's account until he deleted the "tweet in question."
Allred did not return for the spring semester at Rutgers in 2017. It now appears he's lost the Montclair gig, according to a recent Allred tweet. His inability to contain his TDS certainly is going to turn his curriculum vitae into an interesting document while he tries to find another sap college to hire him.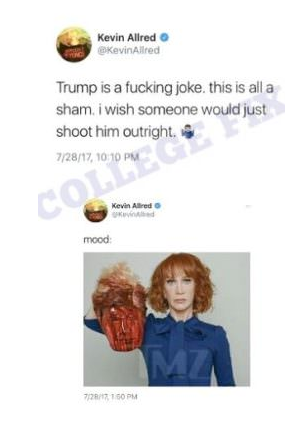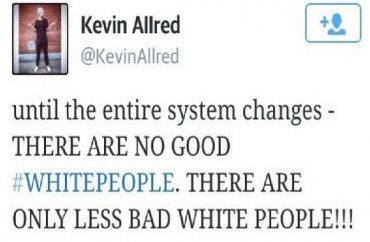 Source: The College Fix, The Daily Mail