Only a short three years ago, Hillary Clinton was riding high on the polls, sure to be the next president of the United States. That portrait painted so succinctly by the corrupt Fake News Media was just the beginning of a massive and unbelievably complicated scheme by the Obama-Biden administration to knock the podium out from under President Donald Trump and illegitimately replace him with Hillary Clinton.
US Attorney for Connecticut John Durham may not seem to be a man of many words, but rest assured that he is a man of many legal talents. In the past, Durham has been compared to Eliott Ness, the American Prohibition agent who brought down Al Capone in the crooked city of Chicago. He led the famous team of law enforcement agents known as The Untouchables. He has also been compared to Wyatt Earp, an American Old West lawman in Cochise County, Arizona Territory and deputy marshal in Tombstone. He was most famous for a victory during the Gunfight at the O.K. Corral, along with friend, Doc Holliday, and his two brothers, Virgil and Morgan Earp. If anyone will be getting to the bottom of this Russia Collusion Hoax, it will be the duo of Bill Barr and John Henry Durham.
DURHAM LOOKS HARD AT CLAPPER, BRENNAN AND MIFSUD
Sources have revealed that Durham is "very interested" to question former Director of National Intelligence James Clapper and former CIA Director John Brennan. The two have since "lawyered up" and it has been noted that they both appear to be backpedaling on previous claims that everything done on their part was on the up-and-up. Recently, Clapper literally threw the former president Barack Hussein Obama under the proverbial bus when he outright admitted that whatever it was that they did in regards to this surveillance and the conduct of the Russia Collusion Hoax investigation, all commands came right from the top and can be squarely placed at the Oval Office desk of Obama.
Fox News Channel:
In Italy, Barr reportedly told embassy officials he "needed a conference room to meet high-level Italian security agents where he could be sure no one was listening in."

A source in the Italian Ministry of Justice told The Daily Beast earlier this month that Barr and Durham were played a taped deposition made by Joseph Mifsud, the professor who allegedly told ex-Trump aide George Papadopoulos that the Russians had "dirt" on Hillary Clinton.

Mifsud reportedly was explaining to authorities in the deposition why people would want to harm him, and why he needed police protection.

Papadopoulos has suggested he was connected with Mifsud as part of a setup orchestrated by intelligence agencies.

Additionally, documents obtained by Fox News confirmed that Australia proactively offered support for Barr's review, and seemingly contradicted reporting that Trump was pressuring other countries to assist.
Another report also describes the fact that Barr and Durham are now in receipt of two cell phones that were the property of Mifsud and that these have been secured as further evidence continues to amass.  The New York Bar Association has come down today to demand that the Attorney General recuse himself from this investigation, but it's not clear if they have cause for such a demand, other than it appears that the New York Bar may have some underlying interest in handcuffing the investigation that has clearly ruffled a lot of feathers.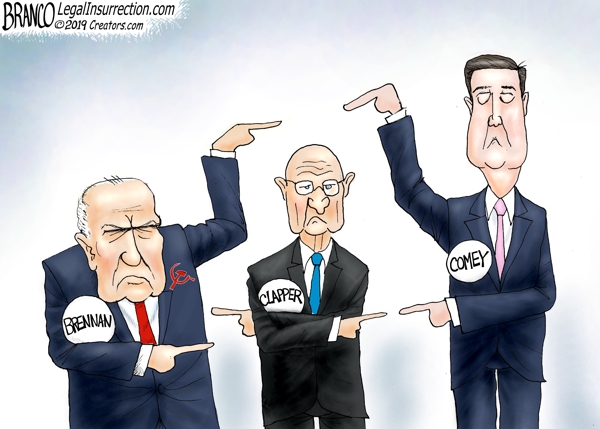 TRUMP ADVISOR EMAILS
In a separate, but related, issue, one of the then-candidate Trump's advisers (who remains unnamed to date) was apparently notified by his email service provider that they were in receipt of a legal demand for his email data, a request "served by the Federal Bureau of Investigation." This email service provider complied with the FBI demand in mid-2017, but the Trump adviser was not told of the turning over of the documents until the "non-disclosure prohibition" had expired. In other words, by the time the former adviser to the president had found out that his email service provider had turned over his emails to the FBI in 2017, between six and eight months had already passed.
This also confirmed the earlier suspicions by many GOP lawmakers that the Bureau had sought and obtained email communications as part of the Mueller investigation that directly related to Trump campaign activities.
John Durham appears to be in no hurry to rush through this investigation and possibly allow the intended quarry to escape due to a technicality. He has broadened the scope to cover a post-election period that extends through to the spring of 2017. This is enough of a reason for the entirety of Obama administration former officials to be sweating and may also be a reason why so many of them are now coming out with preemptive strikes on President Trump's behavior and policies as a way to deflect attention from themselves.
It wasn't too long ago that nearly every one of the Fake News Media anchors were proclaiming victory in the Mueller Report as it neared completion, crowing on every nightly television show that the "walls were closing in on Donald Trump."
Now, it looks as if the same can be said of the coup leaders. The new marshal in town won't be bringing a knife to a gunfight.
Source:  Fox News Channel