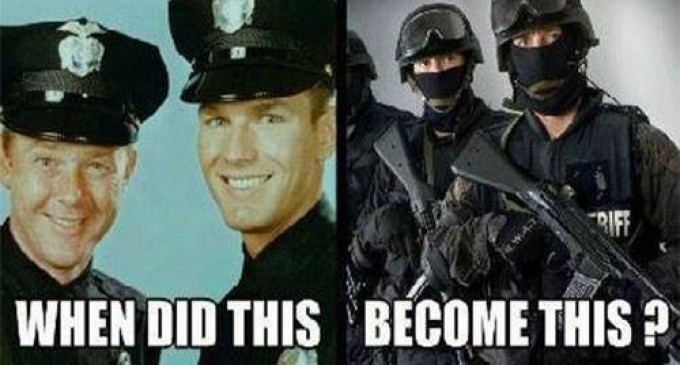 Rep. Chris Stewart (R-Utah) told the Salt Lake Tribune in a recent interview that he is researching ways to cut funding for the "paramilitary units" cropping up at federal agencies such as the BLM, USPS, FDA, EPA, USDA, etc.
"There are lots of people who are really concerned when the BLM shows up with its own SWAT team," states Stewart. "They're regulatory agencies; they're not paramilitary units, and I think that concerns a lot of us.
Senator Rand Paul (R- Kentucky) also calls out this rather frightening government build-up, stating that the feds should not have "48 federal agencies carrying weapons and having SWAT teams."
Obama has been creating a his own private military force and stuffing it inside various federal agencies. Just this past week we saw solicitation from the USDA for submachine guns and ballistic ballistic armor.
But not only are we seeing federal agencies armed to the teeth, we are seeing local police looking more like SWAT and military machines from the Iraq and Afghanistan wars making its way into the hands of local law enforcement.
Time to wake up America, not much time left.
Stewart wants federal officials to rely upon local law enforcement departments when the need for an armed response arises. The lawmaker is a member of the House Appropriations Committee.

There are currently about 300 law enforcement officers under the direction of the BLM, according to Interior Department representative Jessica Kershaw. The Bureau of Land Management armed agents "provide support on 245 million acres of public land," although Kershaw maintained that the BLM does not possess "SWAT or tactical teams." She also said the Interior Department division partners and coordinates with local policing agencies to "leverage limited resources."

Clinton administration BLM Director Patrick Shea also weighed in on the issue with the Utah newspaper. Shea said that while Stewart's notion of partnering with local law enforcement agencies is worth considering, there are also good reasons why the United States had not consolidated the policing agencies under a single umbrella.

"We come up against the old adage: Be careful what you wish for," Shea said. "Besides the military, we could end up with a national police force. That could make black helicopters look like biplanes."

The Stewart bill proposal would likely apply to not just the BLM armed agents but to their counterparts at the IRS, Social Security and other federal agencies as well. Last year in Alaska, 40 armed agents from the EPA conducted a raid over alleged environmental infractions.

According to a 2012 Justice Department report, federal agencies employ approximately 120,000 staffers authorized to carry firearms.

While the Utah Republican did not publicly pick a side in the Bundy ranch standoff, he did say he was shocked at the response of the federal government and feels the influx of armed agents led to the presence of the civilian militia. The day after Clark County Sheriff Doug Gillespie served as a negotiator between Cliven Bundy and the BLM, the armed federal agents backed off and returned the cattle.

The New American, which annually rates lawmakers in a "Freedom Index" report, gave Stewart a 60 percent approval rating and Rand Paul a 100 percent rating.

After the Bundy standoff Senate Majority Leader Harry Reid said during an interview, "We can't have an American people that violate the law and then just walk away from it. So it's not over,"