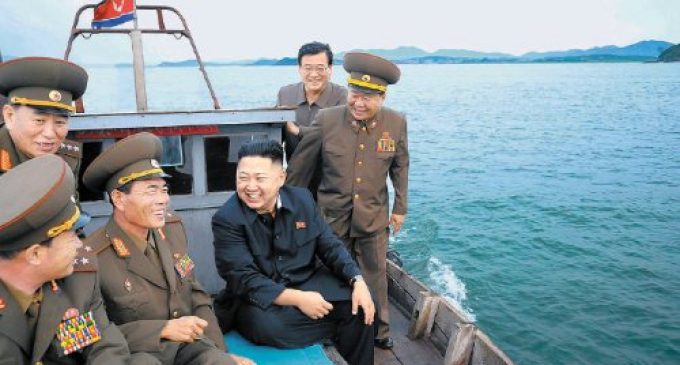 On the day prior to Trump's Inauguration on January 20th, Pyongyang had begun preparations for a missile launch at the Chamjin missile factory, as picked up by U.S. satellites.  As Secretary of Defense James "Mad Dog" Mattis prepared for his first trip to Asia on January 29, North Korea started its plutonium reactor at the Yongbyon nuclear facility.
By February 2, Mattis was already in South Korea, directing the deployment of the Terminal High Altitude Air Defense (THAAD) systems near Seoul and on the 5th, the US and Japan successfully downed a test medium-range ballistic missile with a new interceptor launched from a guided-missile destroyer.  On the 11th, North Korea responded with its launch of the Pukguksong-2.
On the 14th of February, reports emerged about the assassination of Kim Jong-un's half-brother, Kim Jong-Nam by VX nerve agent. Shortly after, China banned all Chinese imports of coal to North Korea for the remainder of the year, citing compliance with a United Nations Security Council resolution.
Four more ballistic missiles were fired into the Sea of Japan on March 6th. That day, the THAAD system arrived in Seoul and was emplaced. On the 23rd, North Korea launched another missile, which exploded seconds after launch.
Halfway through the month of April, North Korea once again attempted a missile launch which also failed. On the 29th, another launched missile by North Korea and meant for the Sea of Japan exploded instead over land.
May 16th found yet another North Korean missile launch that landed 60 miles south of Russia's Vladivostok region. On the 21st and the 29th, Pyongyang fired to more missiles, one a ground-to-ground and the other a short-range ballistic which landed in Japan's exclusive economic zone.
On June 2nd, the United Nations announced new sanctions against North Korea, and on the 8th, Pyongyang responded by firing four anti-ship missiles into the sea east of the Korean peninsula.
On the July 4th, North Korea announced that it had conducted its first successful launch of a nuclear-capable intercontinental ballistic missile that can "reach anywhere in the world."
These multiple launches and provocations have culminated in the United States issuing a ban on all travel to North Korea, which if violated, will result in seizure of passport. Now, a disturbing alert has been issued by the U.S. as well that spells only one outcome. Turn to the following page for the newest development.