Bill Ayers has been lying low for years, influencing university students through his mentor programs in the colleges where he has served as distinguished professor and renowned Leftist idol.  Now he has been exposed and is directly tied to a new Anti-First Amendment (AntiFA) Leftist group that was responsible for the recent riots, violence, robberies and arson in Berkeley, California.
The new group, Refuse Fascism, has an apparent mission to shut down all Conservative and Right wing opinion that is contrary to Progressive Fascism which has leaked into every corner of academia.  If the riots in Berkeley are any indication of how far Leftist students will go to get their point across, what will happen when actual Fascist adults get involved who have access to bombs and the deep pockets of George Soros.
For his part, Soros has already provided some funding for Refuse Fascism and all facts point in the direction of more violence and mayhem being perpetrated on the United States.  Their main objective to undermine U.S. authority over the Constitution's guarantee of Free Speech is apparent and frightening.
Here's more from The Gateway Pundit:
"Refuse Fascism", a fascist organization that wishes to inhibit and deny the speech of conservatives, is partly funded by George Soros. It has organizers like Bill Ayers and is targeting youth across the country with the intention of indoctrinating and brainwashing individuals who nascent politically.  We know Ayers was associated with Barrack Obama and is a big supporter of various socialists and communists as well as violent terrorists.

Today, it has come out that Ayers is partnering with Antifa in the spread of militant violence against pro-America demonstrators. Leftists have historically turned Ayers into a folklore figure who they cherish and respect despite his violent past.
The group's name, Refuse Fascism, while referring to a denial of authoritarianism, is actually succinct in its title, because the word "refuse" does have a different pronunciation.  Refuse is also trash and this latest group's name perfectly fits because it is the leftover garbage of the Nazis from the 1930s and '40s.
Like it or not, Garbage Fascism has no place in modern society.  And neither does Bill Ayers.
https://twitter.com/JackPosobiec/status/857723910791581698
Who made the black signs at the #BerkeleyProtest? One "initiator" of the group Refuse Fascism was DOMESTIC TERRORIST Bill Ayers! #NeverLearn pic.twitter.com/h3mdzotK4m

— Rep. Steven Smith (@RepStevenSmith) April 27, 2017
https://twitter.com/JackPosobiec/status/857725969343401986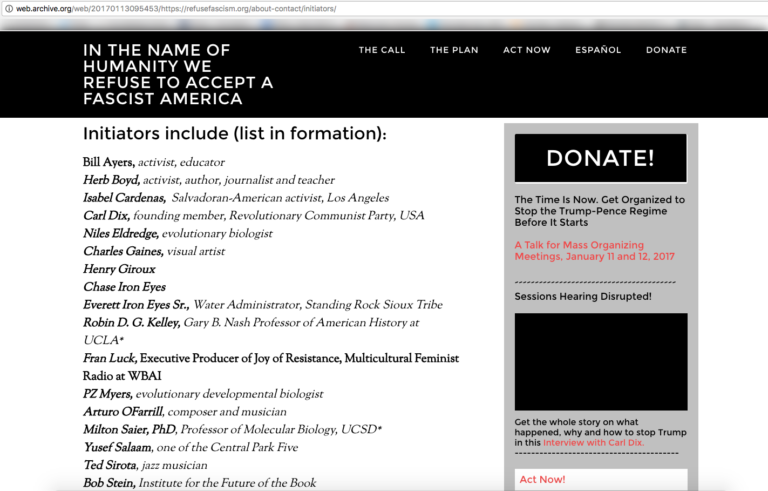 Dinesh D'Souza Explains Fascism to ANTIFA and Leftist Hypocrites:
Source:  The Gateway Pundit