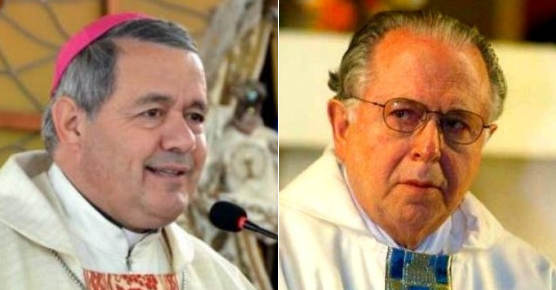 Bishop Barros (left) Rev. Fernando Karadima (right)
Pope Francis has been caught once again covering-up pedophilia scandals within the Church.
This time, however, he has no excuse because he has been complete caught in his lies.
During his recent trip to South America major protests broke out in Chile over his refusal to address the sex crimes of Rev. Fernando Karadima as allegedly covered up by Bishop Juan Barros.
The scandal exploded last month when Francis' trip to South America was marred by protests over his vigorous defense of Bishop Juan Barros, who is accused by victims of witnessing and ignoring the abuse by the Rev. Fernando Karadima. During the trip, Francis callously dismissed accusations against Barros as "slander," seemingly unaware that victims had placed Barros at the scene of Karadima's crimes.

On the plane home, confronted by an AP reporter, the pope said: "You, in all good will, tell me that there are victims, but I haven't seen any, because they haven't come forward."
Pope Francis branded all of the victims as liars, demanding of them "in the heat of the moment" to show evidence, and claimed the Bishop was guilty of no wrongdoings.
But this is simply not true. As the AP has learned, Pope Francis was hand delivered testimonies from  Bishop Juan Barros's victims!
The victims had spoken-up. It was the so-called "Holy Father" who refused to use his position as Pope to condemn pedophilia and those who prey on children.
But members of the pope's Commission for the Protection of Minors say that in April 2015, they sent a delegation to Rome specifically to hand-deliver a letter to the pope about Barros. The letter from Juan Carlos Cruz detailed the abuse, kissing and fondling he says he suffered at Karadima's hands, which he said Barros and others saw but did nothing to stop.
And then there is this,
VATICAN CITY (AP) — Pope Francis received a victim's letter in 2015 that graphically detailed how a priest sexually abused him and how other Chilean clergy ignored it, contradicting the pope's recent insistence that no victims had come forward to denounce the cover-up, the letter's author and members of Francis' own sex- abuse commission have told The Associated Press.

The fact that Francis received the eight-page letter, obtained by the AP, challenges his insistence that he has "zero tolerance" for sex abuse and cover-ups. It also calls into question his stated empathy with abuse survivors, compounding the most serious crisis of his five-year papacy.
Pope Francis is a liar who condones pedophilia. Now some of you might think condone is too harsh of a word. But, if you are informed in person of the misdoings of a supposed 'man of God', you have a duty before the Lord Jesus Christ to right the wrongs committed against these innocent children.
Move on to the last page to see proof of lies committed by Pope Francis and video of his public apology for, basically, lashing out at victims: