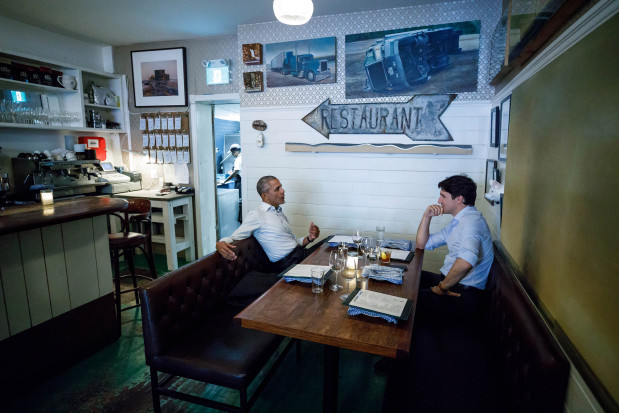 Citizen Obama, in an effort to remain relevant and to keep his ego inflated to maximum size, booked a private, candlelit dinner with Prime Minister Justin Trudeau of Canada in the local couples hotspot of Liverpool House.  Over the course of the wonderfully sweet, blossoming friendship, they not only shared adoring stares of mutual admiration, but also dinner, where it was difficult to know if we should be referring to Justin instead as Justine.
Tuesday night, Obama was spotted dining out with Prime Minister Justin Trudeau, just hours after Trudeau flouted current President Donald Trump with a NATO plan that suggests the international community simply wait out the current President to make any changes.

Trudeau and Obama bro-ed out, sharing laughs, hugging, and ordering top notch cuisine at one of Montreal's hottest restaurants, Liverpool House. The two reportedly noshed on the restaurant's famous oysters, steak and lobster spaghetti,  topped off by strawberry shortcake—how adorable.
Citizen Obama has been on a kick lately to attempt to push Trump's and his supporters' buttons by following him around the planet in a very creepy Aldous Huxley-ess fashion as he meets with world leaders sometimes right next door to the ACTUAL President of the United States.
In Europe, a week and a half ago, he met with his other half of the Global Twins, German Chancellor Angela Merkel, at the Brandenburg Gate to chide the president and speak of the "lack of leadership" in the White House.  It did not help that Obama was operating with the knowledge that the press back home was mixed on Trump's visit to both the Middle East and Europe.  He had made himself very clear before he left, "You will not write positive stories about Trump."  Unfortunately, some of them broke ranks and actually printed the truth and that just sent Citizen Obama into a tailspin.
But rather than just stewing at home in front of the mirror in profile, he decided to do something about it.  He picked up the phone and called his peeps and before anyone could say "covfefe!" Obama was meeting with the Italian president.  Why Obama waited until Italy was somewhat of a mystery, especially considering that he feels so at home in the Middle East where bowing to sheiks is customary; however, he made a good go of it when he arrived in Berlin.
With this latest bromantic dinner in Montreal, Citizen Obama is proving to be  a worthy ex-presidential adversary for Trump.
Barack's intimate dinner with Justin isn't the former President's first suspiciously timed foreign meeting, though. Since Trump has been in office, Obama's been quietly following the current President's schedule—taking meetings, meeting with foreign leaders, and giving policy speeches, often in the same city (or closely following) President Trump, like a weird, shadowy figure.
Not really sure when the next "leaked" document will surface from the Department of Shadowy Endeavors (DSE) but rest assured that it will have something to do with trying to humiliate or denigrate the United States of America.
Source:  HeatStreet