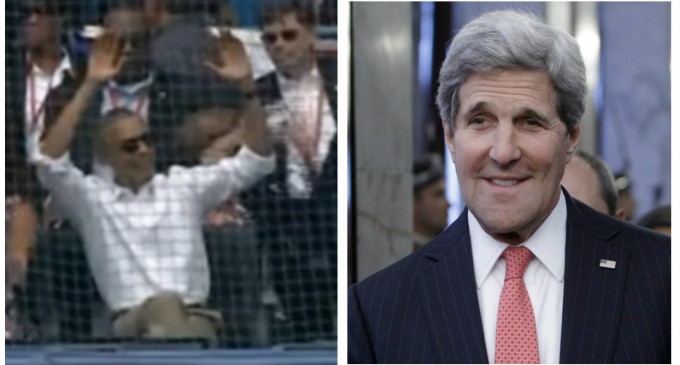 Barack Obama and John Kerry showed us again today how little they care for the welfare of American citizens and those of our allies.  Mere hours after Brussels was rocked by the worst terrorist attack in Europe since last year's massacre in Paris, Barack Obama was eating hotdogs with communists at a baseball game in Havana, Cuba.
If you thought that President Obama was going to stay silent regarding Brussels you are mistaken.
He took a timeout from hanging out with his new BFF, Raul Castro to devote a whole fifty-one seconds of speech to ESPN on the attacks.  Yes, while 34 dead bodies are hardly cool, and hundreds more— including several Americans— lay injured in hospitals our carefree Commander-in-Chief was enjoying some peanuts, crackerjacks, and communism.  Of course, in his remarks the president yet again failed to identify the threat our nation and the world faces as radical Islamic terrorists.
Not to be outdone by his boss, our bumbling Secretary of State, John Kerry, sat down for a meeting with a group responsible for more deaths than even ISIS.  To read more about Obama's new communist friends and to see which murderous group John Kerry met with, continue reading on the next page: