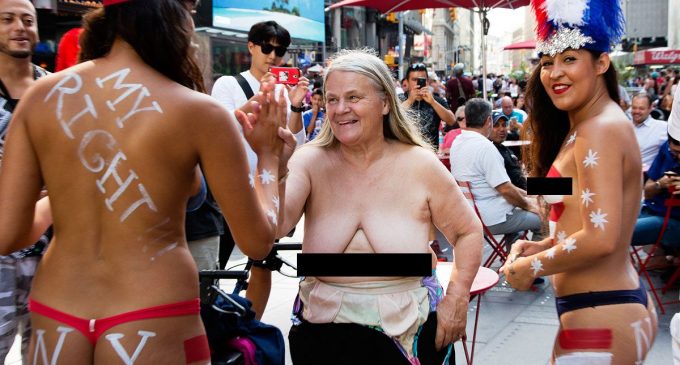 Cops in New York are powerless to arrest desnudas – topless females and filthy costumed characters in Times Square who operate as seedy shakedown artists – because the city refuses to arrest illegal immigrants.
When the New York Post sent a reporter to go out and communicate with the desnudas they were greeted with insults and wild gestures.
'I told you, if you don't have a tip, then f*** off!' one star-spangled pandhandler said to the reporter.
"I just encountered that with Cookie Monster," one Alabama tourist told the New York Post. "I didn't want to get a photo, and he or she or whoever it was, they were very aggressive with me."
The Times Square Alliance said that one day from four to 9pm it observed 20 workers. They report seeing 418 character-initiated encounters and found that only 43 percent of the interactions actually amounted to tips while 88 per cent involved characters touching members of the public.
One American that has caused a stir in Times square is near-naked 69-year-old Clare Hogenauer who sees it as her right to go topless as well.
"I'm doing this to say that we all have the same right to be topless," Hogenauer said.
Move to the next page for details.