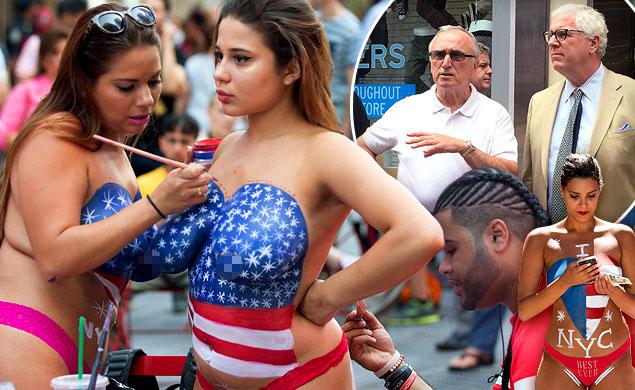 Desnudas are naked ladies protecting their modesty by painting star-spangled or other patterns on their exposed breasts then walking around NYC Times Square demanding cash.
The New York Post recently did a story on these desnudas and the rampant crime associated with illegal immigrants panhandling.
The New York Post sent a reporter to go out and interact with the desnudas and other panhandlers and were greeted with insults and wild gestures.

'I told you, if you don't have a tip, then f*** off!' one star-spangled desnuda said to a Post reporter.
Parents no longer feel comfortable taking their children to one of the most famous places in New York City.
During a walk through the pedestrian plaza with The Post, Times Square Alliance President Tim Tompkins said: 'Watch — the Hulk always goes and touches people.'  The costumed beast was outside the 47th Street and Broadway zone and would berate potential customers for money by putting his huge arms around them.

'The Hulk drives me crazy,' Tompkins said.

A block south and over at Seventh Avenue, a trio of Minnie Mice working in cahoots with each other. When a tourist took a selfie, one Minnie would crash the photo but soon the others would join as well. 'Suddenly, there's three Minnies in your picture,' Tomkins said. 'And a Batman, and a Spider-Man. And they all want cash. And they're all outside the zone.
The cops are powerless to stop these crimes due to NYC Mayor Bill de Blasio encouraging the creation of Designated Activity Zones. DAZs were designed to give illegal immigrants a safe place to attack or harass citizens living in NYC. You could think of DAZs as the new red light districts.
And even with the last year announcement of New York City's Designated Activity Zones (DAZs), the city-mandated areas created for desnuda's to ask for tips, many are annoyed with law enforcement's lack of enforcing the policy.

Law-enforcement reportedly write off the need to ticket, adding that the officers' hands were tied since most of the costumed panhandlers are illegal immigrants and under Bill de Blasio's administration, going after them would be difficult.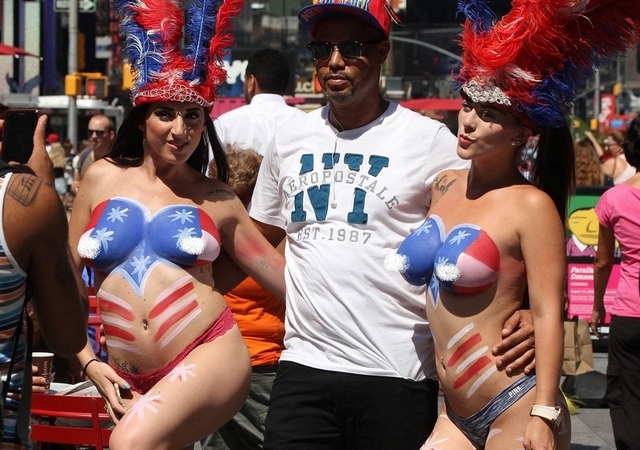 And the physical assaults just keep growing… And the solutions provided NYCs liberal polices and leaders are doing nothing to help.
Uncomfortable incidents – one where a Spider-Man wouldn't let go of a 13-year-old until their father paid $10 and a Batman who snatched $50 out of an Irish tourist' wallet – prompted the creation of eight DAZs a year ago.
The illegal immigrant panhandlers don't obey the law. Add in that police are forbidden from going after illegals and you have a lawless, out-of-control mess.
Times Square Alliance President Tim Tompkins told The Post many of the Times Square performers continuously leave their Designated Activity Zones in an effort to earn more cash as part of what he called a "scam."
Of course, the police chief was instructed to follow his liberal master's orders and shut down people's concern over their children being attacked by illegal panhandlers while the cops do nothing…
But when asked about the issue, NYPD spokesman Peter Donald responded in an e-mail that 'the enforcement data tells a different story. There have been a number of arrests and hundreds of summons issued to costume characters over the past year in Times Square.'
Note the word summons. Who wants to bet that not one of these illegal panhandlers showed up to answer? It's a joke. It's ridiculous.
The only ones who will actually get arrested are the ones stupid enough to do something like assault an officer.
The left seeks to attack and subject women by promoting PC culture and absurd protection or refusal to report or deal with anything negative concerning minorities or illegal immigrants.
The Desnudas, these women, girls, illegal immigrants are at high risk for exploitation, abuse, and human trafficking. 
Did you know that ICE actually helps fight human trafficking?
Human trafficking is one of the most heinous crimes that ICE investigates. In its worst manifestation, human trafficking is akin to modern-day slavery. Victims pay to be illegally transported into the United States only to find themselves in the thrall of traffickers. They are forced into prostitution, involuntary labor and other forms of servitude to repay debts – often incurred during entry into the United States. In certain cases, the victims are mere children. They find themselves surrounded by an unfamiliar culture and language without identification documents, fearing for their lives and the lives of their families.

ICE is serious about ending human trafficking.

ICE relies on tips from the public to dismantle these organizations. ICE encourages you to keep your eyes and ears open to suspicious activity. Trafficking victims are often hidden in plain sight, voiceless and scared.
Mira, Espangol!
Source: Daily Mail, Fox News
Image: Gothamgirlchronicles