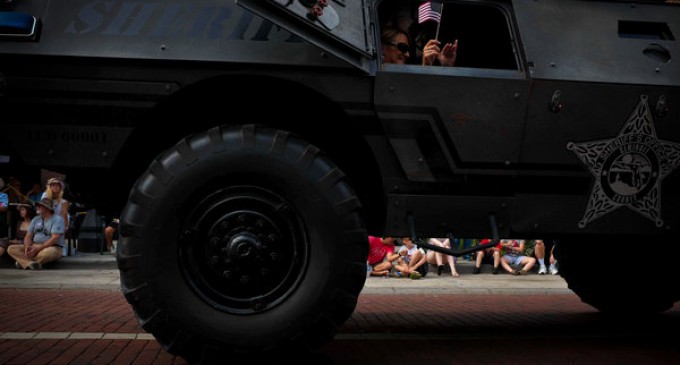 The New York Times published a report yesterday revealing the vast quantity of war equipment making their way into local law enforcement, as well as the greatly increased use of SWAT teams – which are now being used for the most routine police calls.
This deployment of military equipment and use of SWAT has skyrocketed under the Obama administration. Although Congress created the military-transfer program in the early 1990s to combat drug crime, crime has dropped to its lowest levels in a generation.
This article in the New York Times follows an article in the Washington Times that came out last month which detailed a directive outlining Obama´s intention to use the military against US citizens.
Of course, the citizens feared most would be veterans, who can train the rest of us in military tactics – as the this quote by a sergeant from Illinois reveals:
"You have a lot of people who are coming out of the military that have the ability and knowledge to build I.E.D.'s and to defeat law enforcement techniques," states Sgt. Dan Downing of the Morgan County Sheriff's Department.
No wonder you have a completely corrupt VA killing our veterans and keeping them sick with incentivized waiting lists.
So, here we have 2 highly prominent mainstream media publications basically telling us that Obama intends to attack the American people and is bringing in military machines and militarizing police force across the country to do just that.
(and, let´s not forget that there are now 48 non-security related federal agencies that have their own paramilitary units.)
So…why would the highly-controlled mainstream media now be disclosing these plans?
The best case scenario is that their plans are becoming unraveled and mainstream media is now having to come out with all this as it's just too much in public view to be ignored any longer.
But  the worst case scenario is that Obama and his fellow communists are OPENLY ANNOUNCING their takeover through their actions. If so, they obviously feel that they have all their pieces in place to win the coming war.
With the obliteration of our economy, the militarization of local and federal agencies, the complete lawlessness of all 3 branches of government, the stripping away of our rights, the waves of illegal immigrants and Muslims coming in, admitted Islamic training camps permitted to operate right inside America,etc. Well, they would obviously feel very confident and have succeeded so far in their overall strategy.
All this doesn't happen overnight folks! It's beyond obvious that this communist takeover has been in the works for quite a while.
So what's next? That is hard to say without seeing their playbook. We are talking about the military-industrial complex here, at least in part, which Eisenhower warned us about decades ago but we failed to hear. But a decent guess would be the demonization of patriots. Got to prepare the public for our persecution, of course!
These so-called "announcements",  the continued blatant lawlessness of the administration without consequence, the surge in police brutality, etc., could all serve to mental condition the populace to their takeover. It's the 'boiling of the frog' technique to acclimate people to tyranny over time –  through the wearing of people down mentally and emotionally from prolonged evil and through cognitive dissonance.
One thing is for sure, if we only react to their actions, we are still operating within their plan, if indeed it's still in full force. Therefore, if we fail to take autonomous action we are decisively leading ourselves down whatever path they chose.
If all of this sounds too paranoid for you, then you have not accepted the fact that we are actually at war for our country here. And no war was ever won without trying to assess and make contingencies for the strategy of the other side.
NEENAH, Wis. — Inside the municipal garage of this small lakefront city, parked next to the hefty orange snowplow, sits an even larger truck, this one painted in desert khaki. Weighing 30 tons and built to withstand land mines, the armored combat vehicle is one of hundreds showing up across the country, in police departments big and small.

The 9-foot-tall armored truck was intended for an overseas battlefield. But as President Obama ushers in the end of what he called America's "long season of war," the former tools of combat — M-16 rifles, grenade launchers, silencers and more — are ending up in local police departments, often with little public notice.

During the Obama administration, according to Pentagon data, police departments have received tens of thousands of machine guns; nearly 200,000 ammunition magazines; thousands of pieces of camouflage and night-vision equipment; and hundreds of silencers, armored cars and aircraft.

The equipment has been added to the armories of police departments that already look and act like military units. Police SWAT teams are now deployed tens of thousands of times each year, increasingly for routine jobs. Masked, heavily armed police officers in Louisiana raided a nightclub in 2006 as part of a liquor inspection. In Florida in 2010, officers in SWAT gear and with guns drawn carried out raids on barbershops that mostly led only to charges of "barbering without a license."

When the military's mine-resistant trucks began arriving in large numbers last year, Neenah and places like it were plunged into the middle of a debate over whether the post-9/11 era had obscured the lines between soldier and police officer.

"It just seems like ramping up a police department for a problem we don't have," said Shay Korittnig, a father of two who spoke against getting the armored truck at a recent public meeting in Neenah. "This is not what I was looking for when I moved here, that my children would view their local police officer as an M-16-toting, SWAT-apparel-wearing officer."

A quiet city of about 25,000 people, Neenah has a violent crime rate that is far below the national average. Neenah has not had a homicide in more than five years.

"Somebody has to be the first person to say 'Why are we doing this?' " said William Pollnow Jr., a Neenah city councilman who opposed getting the new police truck.

Neenah's police chief, Kevin E. Wilkinson, said he understood the concern. At first, he thought the anti-mine truck was too big. But the department's old armored car could not withstand high-powered gunfire, he said.

"I don't like it. I wish it were the way it was when I was a kid," he said. But he said the possibility of violence, however remote, required taking precautions. "We're not going to go out there as Officer Friendly with no body armor and just a handgun and say 'Good enough.' "

Congress created the military-transfer program in the early 1990s, when violent crime plagued America's cities and the police felt outgunned by drug gangs. Today, crime has fallen to its lowest levels in a generation, the wars have wound down, and despite current fears, the number of domestic terrorist attacks has declined sharply from the 1960s and 1970s.

Police departments, though, are adding more firepower and military gear than ever. Some, especially in larger cities, have used federal grant money to buy armored cars and other tactical gear. And the free surplus program remains a favorite of many police chiefs who say they could otherwise not afford such equipment. Chief Wilkinson said he expects the police to use the new truck rarely, when the department's SWAT team faces an armed standoff or serves a warrant on someone believed to be dangerous.

Today, Chief Wilkinson said, the police are trained to move in and save lives during a shooting or standoff, in contrast to a generation ago — before the Columbine High School massacre and others that followed it — when they responded by setting up a perimeter and either negotiating with, or waiting out, the suspect.

The number of SWAT teams has skyrocketed since the 1980s, according to studies by Peter B. Kraska, an Eastern Kentucky University professor who has been researching the issue for decades.

The ubiquity of SWAT teams has changed not only the way officers look, but also the way departments view themselves. Recruiting videos feature clips of officers storming into homes with smoke grenades and firing automatic weapons. In Springdale, Ark., a police recruiting video is dominated by SWAT clips, including officers throwing a flash grenade into a house and creeping through a field in camouflage.

In South Carolina, the Richland County Sheriff's Department's website features its SWAT team, dressed in black with guns drawn, flanking an armored vehicle that looks like a tank and has a mounted .50-caliber gun. Capt. Chris Cowan, a department spokesman, said the vehicle "allows the department to stay in step with the criminals who are arming themselves more heavily every day." He said police officers had taken it to schools and community events, where it was a conversation starter.

"All of a sudden, we start relationships with people," he said.

Not everyone agrees that there is a need for such vehicles. Ronald E. Teachman, the police chief in South Bend, Ind., said he decided not to request a mine-resistant vehicle for his city. "I go to schools," he said. "But I bring 'Green Eggs and Ham.' "

The Pentagon program does not push equipment onto local departments. The pace of transfers depends on how much unneeded equipment the military has, and how much the police request. Equipment that goes unclaimed typically is destroyed. So police chiefs say their choice is often easy: Ask for free equipment that would otherwise be scrapped, or look for money in their budgets to prepare for an unlikely scenario. Most people understand, police officers say.

"When you explain that you're preparing for something that may never happen, they get it," said Capt. Tiger Parsons of the Buchanan County Sheriff's Office in northwest Missouri, which recently received a mine-resistant truck.

Pentagon data suggest how the police are arming themselves for such worst-case scenarios. Since 2006, the police in six states have received magazines that carry 100 rounds of M-16 ammunition, allowing officers to fire continuously for three times longer than normal. Twenty-two states obtained equipment to detect buried land mines.

In the Indianapolis suburbs, officers said they needed a mine-resistant vehicle to protect against a possible attack by veterans returning from war.

"You have a lot of people who are coming out of the military that have the ability and knowledge to build I.E.D.'s and to defeat law enforcement techniques," Sgt. Dan Downing of the Morgan County Sheriff's Department told the local Fox affiliate, referring to improvised explosive devices, or homemade bombs. Sergeant Downing did not return a message seeking comment.

The police in 38 states have received silencers, which soldiers use to muffle gunfire during raids and sniper attacks. Lauren Wild, the sheriff in rural Walsh County, N.D., said he saw no need for silencers. When told he had 40 of them for his county of 11,000 people, Sheriff Wild confirmed it with a colleague and said he would look into it. "I don't recall approving them," he said.

Some officials are reconsidering their eagerness to take the gear. Last year, the sheriff's office in Oxford County, Maine, told county officials that it wanted a mine-resistant vehicle because Maine's western foothills "face a previously unimaginable threat from terrorist activities."

County commissioners approved the request, but recently rescinded it at the sheriff's request. Scott Cole, the county administrator, said some people expressed concerns about the truck, and the police were comfortable that a neighboring community could offer its vehicle in an emergency.

At the Neenah City Council, Mr. Pollnow is pushing for a requirement that the council vote on all equipment transfers. When he asks about the need for military equipment, he said the answer is always the same: It protects police officers.

"Who's going to be against that? You're against the police coming home safe at night?" he said. "But you can always present a worst-case scenario. You can use that as a framework to get anything."

Chief Wilkinson said he was not interested in militarizing Neenah. But officers are shot, even in small towns. If there were an affordable way to protect his people without the new truck, he would do it.

"I hate having our community divided over a law enforcement issue like this. But we are," he said. "It drives me to my knees in prayer for the safety of this community every day. And it convinced me that this was the right thing for our community."