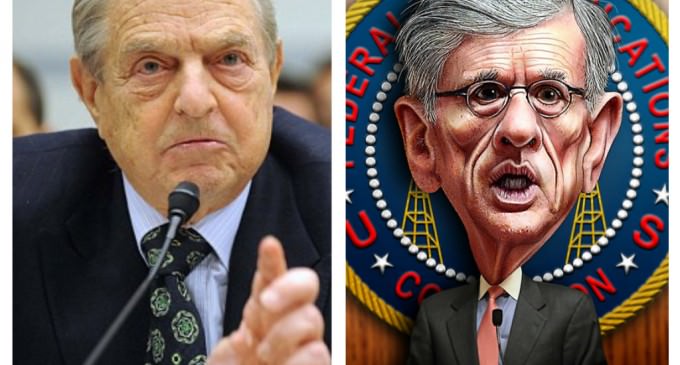 The Federal Communications Commission finally released the 400-page set of new Internet regulations – 2 weeks after it passed. The document isn't quite steeped in references to our Constitution or patriotic court judgements that protect our freedoms, instead, there are 46 references to the group Free Press, which is funded by George Soros and co-founded by a Marxist, Robert McChesney.
The regulations were sealed from public view and FCC Chairman Tom Wheeler refused to testify before Congress on its contents before the FCC unleashed it on an American public a couple weeks ago.
These alphabet federal agencies have become a de facto Fourth Branch of government, each comprised of  their own executive, legislative and judicial branches and often with a full police force. Worse, they are able to operate completely without oversight and are bought off by banks and corporations.
These agencies are usurping our Constitutional government. They replace Congress by writing laws, called regulations, and are equiped with the power to judge 'law breakers' and execute punishment.
"Leveling the playing field" in that way has been a clear goal of Free Press, a group dedicated to net neutrality which was founded in 2003.

As Phil Kerpen, president of the free-market group American Commitment, first noted, Free Press is mentioned repeatedly in the FCC document. Most of the references are found in footnotes which cite comments by Free Press activists supporting more internet regulation.

The term "Free Press" is mentioned 62 times in the regulations. Some are redundant mentions referring to the same Free Press activists' comments in favor of more oversight. In total, the FCC cited Free Press' pro-net neutrality arguments 46 times.

The FCC received more than 4 million public comments as it was weighing the net neutrality initiative, but Free Press and other activist groups have received the most attention by pressuring the FCC and the White House on behalf of their cause.

One argument made against the FCC's regulatory push is that the general public is largely happy with its internet service. Support for net neutrality was seen as the domain of special interest groups like Free Press.

The activist group has big money behinds its effort. It has received $2.2 million in donations from progressive billionaire George Soros' Open Society Foundations and $3.9 million from the Ford Foundation.

And one of Free Press' co-founders, Robert McChesney, a communications professor at the University of Illinois, Urbana-Champaign, has not been shy about his desire to see the internet regulated heavily. (RELATED: A Leading Net Neutrality Activist's Neo-Marxist Views)

But internet regulation appears to be only part of McChesney's more radical agenda of completely revamping how the media operate in the U.S.

"In the end, there is no real answer but to remove brick by brick the capitalist system itself, rebuilding the entire society on socialist principles," McChesney wrote in a 2009 essay.

"Only government can implement policies and subsidies to provide an institutional framework for quality journalism," he said.

"The news is not a commercial product. It is a public good, necessary for a self-governing society. Once we accept this, we can talk about the kind of media policies and subsidies we want," McChesney once argued.

Sentiments such as these have raised questions about whether the FCC's new regulations will eventually lead to oversight of internet content.

"The unthinkable has become thinkable, and the free-market Internet – one of freedom's greatest triumphs – is set to be reduced to a public utility, subject to pervasive economic regulation and, in turn, to content control," American Commitment's Kerpen wrote in an open letter to McChesney after the FCC voted 3-2 in favor of the regulations.

McChesney, who is currently on Free Press' board of directors, made a series of progressive proposals in a 2010 book, "The Life and Death of American Journalism." He suggested spending $35 billion on federal subsidies for public media outlets. He also proposed creating a journalism branch of AmeriCorps and said it would be a good idea to give each American a $200 news voucher which could be given only to publicly-owned media outlets.

"Advertising is the voice of capital," McChesney said in a 2009 interview with the Socialist Project. "We need to do whatever we can to limit capitalist propaganda, regulate it, minimize it, and perhaps even eliminate it. The fight against hyper-commercialism becomes especially pronounced in the era of digital communications."

FCC commissioner Ajit Pai blew the whistle on the agency's attempt to sneak the new regulations in under the radar. He pressed FCC chairman Tom Wheeler to release the proposed regulations so that the public could view them before the commission voted on the measure. Wheeler refused.

In his dissent, Pai, a Republican, slammed the commission's secrecy and also mentioned Free Press as one of the activist groups which received special attention on the matter.

"What the press has called the "parallel FCC" at the White House opened its doors to a plethora of special-interest activists: Daily Kos, Demand Progress, Fight for the Future, Free Press, and Public Knowledge, just to name a few," Pai wrote.

"Indeed, even before activists were blocking Chairman Wheeler's driveway late last year, some of them had met with White House officials. But what about the rest of the American people? They certainly couldn't get White House meetings. They were shut out of the process. They were being played for fools."