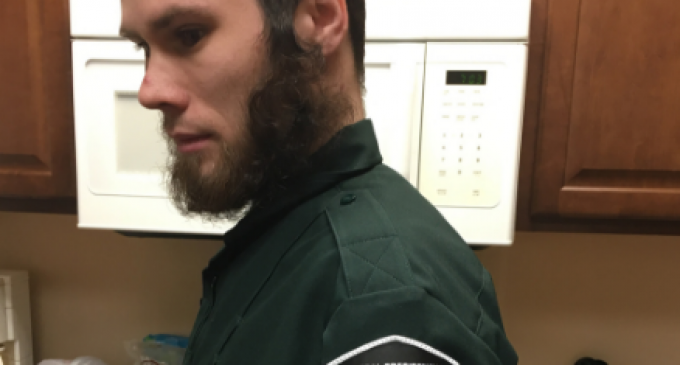 Meet Devon James Miller, the boy next door, who grew up in Walton County, Georgia.  Devon was arrested as a juvenile and charged with impersonating a police officer.  In 2009, Devon converted to Islam at the ripe old age of 14.  It's assumed, like most converts, that he changed his name at this point to Abdullah Rashid.  Soon afterward, Rashid was accused by his school of harassing a 16-year-old student on Facebook.  A school district report at the time stated that Devon had some mental health issues and his mother's own statement that he had been suicidal are enough warnings to know that this young man needed to be medically attended to for everyone's sake.
But the story doesn't end there.  In fact, for Rashid, his life was about to change dramatically.
As he turned 18 in 2013, he formed a religious police organization called the General Presidency of the Religious Affairs and Welfare of the Ummah, and began to accept members.  In the hopes that he could grow the organization globally, he began to become hyper-vigilant regarding sharia law.  In 2015, at 20-years-old, Rashid met and married a Somali-American woman, presumably after having moved to Minnesota.  Shortly thereafter, the couple moved to Cedar-Riverside, an area of Minnesota dominated by Somali Muslims.  In fact, Minnesota is the number one population of Somali Muslims, hovering over 34,ooo in number.
Soon after arriving in the Cedar-Riverside neighborhood, Rashid applied for a firearms permit, but was denied, the state citing previous reports of mental instability.
Rashid's lawsuit was dismissed in March. He said he does not have a mental illness, and his wife, Kadro Abdullahi, said that Rashid is not mentally ill and that she supports his work. "He's a man with a good personality and he loves Islam," Abdullahi said.
Undeterred, Rashid began to lure youths in the neighborhood to his cause, for which he had now fashioned a dark green uniform with the words "Muslim Defense Force" and "Religious Police."  He began to carry flags associated with Islamist terrorist organizations, including ISIS.  If ever there was a blatant trumpet blast of warning about a future terrorist, this was it.
Local police began to receive complaints in the Cedar-Riverside area, but not from non-Muslim residents (of which there are very few), but from the Muslims in that neighborhood.  The Minnesota Somali-Muslim community had been receiving a lot of public scrutiny and national attention due to reports of radicalization and terrorism with origins to that region.  The Muslims in the neighborhood had seen Rashid patrolling the town and warning the residents to adhere to the strictures of the Quran and sharia law.
Police interviewed in a local report admonished Rashid and believe that the group he purports to run preys on vulnerable young, Somali-Muslims who are fed with anti-Western rhetoric by the group's leader.