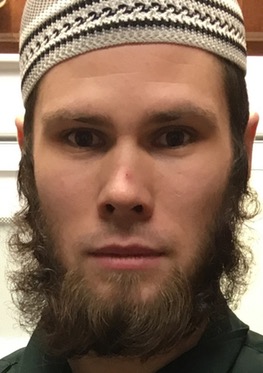 Abdullah Rashid, formerly known as Devon James Miller, is a 22-year-old young man with big aspirations.  After moving to Minnesota from Georgia and marrying a Somali-American Muslim in 2015, the couple moved to the Cedar-Riverside neighborhood of Minnesota where Rashid began to patrol the community in a "religious police" uniform of his own creation.  Toting flags representing terrorist organizations like ISIS, Rashid brought local attention to an area that already had national attention for being a hotbed of anti-American and anti-Western sentiment.
In a recent interview, Rashid said he aims to turn Cedar-Riverside into a "sharia-controlled zone" where Muslims are learning about the proper practices of Islam and that "non-Muslims are asked to respect" it.

"People who don't know me would say I'm a terrorist," he said. "I'm someone who's dedicated to Islam and trying to help the community all ways I can."

But the Islamic Institute of Minnesota issued a statement Wednesday saying Rashid "does not in any way speak for the Islamic Institute of Minnesota or the Muslims in Minnesota."

We consider this matter as a dangerous precedent and a threat in our country and our way of life," the statement said. "We ask our law enforcement agencies to consider this grave matter to protect Minnesotans."
The Council for American-Islamic Relations (CAIR) also came out in opposition to Rashid's self-styled group.
"What he's doing is wrong and doesn't reflect the community at all," said Jaylani Hussein, executive director of the Minnesota chapter of…[CAIR].
The FBI has been closely monitoring Rashid's activities, as are the local police.  According to police spokesman, Officer Corey Schmidt:
"We've had conversations with community members that live over there…Sometimes it takes a little bit of time to deal with it, but it's something we've been monitoring."

But residents of the Cedar-Riverside Plaza complex have raised concerns about him, and management with Sherman Associates said they are aware of the group and working closely with law enforcement.

On Wednesday, Minneapolis police said the Cedar-Riverside Towers' management is in the process of evicting Rashid, and security at Cedar-Riverside Plaza is advising him he's not allowed to patrol the neighborhood or they will cite him for trespassing.

Rashid, who initially said he was working with Minneapolis police, said he is continuing his effort to provide security and protect Muslims' civil rights. He said he has enlisted a group of 10 men, ages 18 and 25, to help him patrol the area.

Meanwhile some in the community are confused about what Rashid is doing.
Rashid has even acted as an activism counselor to those in the Muslim community, purporting to have expertise in areas that seem to others to be outside of his skill set.
Salma Mohamed, a mother of four, met with him recently at Brian Coyle Community Center, seeking advice on a custody case. A friend had referred her to Rashid, unaware of his controversial activities. She was startled by his uniform, she said, and his talk about terrorism and the young Muslim men who were convicted of trying to join ISIS.

"I was expecting the guy was a lawyer," Mohamed said. "He just brought up things that weren't even on the discussion table."
Rashid may have pure intentions inside his own disjointed mind, in that he's standing up for Sharia law and Muslim faith, but his contemporaries are not in agreement with his methods.  My feeling is that this is due in fact to the heightened scrutiny on the community.  Undue vigilance in the community is not something those who have underhanded motives would welcome.  Rashid's "antic" are shining a light of truth on the neighborhood.
On his website, Rashid posted a video titled "Never Trust Non-Muslims" by Anwar al-Awlaki, leader of an Al-Qaida affiliate in Yemen, who was killed in a U.S. drone strike in 2011. And he had initially listed the Masjid Shaafici Cultural Center in Cedar-Riverside address as his organization's headquarters.

But the imam of that mosque, Abdighani Ali, said it has nothing to do with Rashid's group. Ali said he plans to file a complaint with police.

"We're against his ideas," Ali said. "We always encourage our community to be a part of the society."
Young people like Devon James Miller are the exact types of Americans and Europeans who are being targeted by the Islamic radical jihadist movement.  Its insidious tentacles reach far and wide and with their willing accomplices on the Left paving the way for them to instill their messages of hate in our schools, media, wokplaces and government, while downplaying its true intentions, of ruling over all through a global Caliphate, they are making strides toward this goal in increasing effectiveness.
Many people resist the Progressive drumbeat to ban weapons from society.  If that ever occurs, the Left will have won; but only temporarily until the Caliphate warriors arrive to cut off their heads with a dull blade.
Source:  Star Tribune