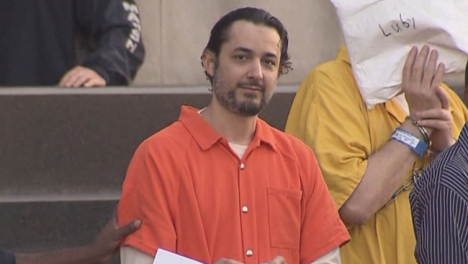 Awwad asked for money so he could purchase a pinhole camera that he would wear in the shipyard to document restricted material. Before departing Awwad agreed to get the agent passport photos so he could produce a fake Egyptian passport to leave the U.S. without alerting officials.
Again in October, Awwad went to a  dead drop on a hiking trail and left an external hard drive and two passport photos, while also retrieving $3,000.
The undercover agent and Awwad met, on December 5, 2014, in the area of Hampton Roads, Virginia, where he discussed his plans to travel to Egypt.  He wanted to meet with "high ranking" Egyptian military and intelligence officials in Cairo.  He also told the agent that he had copied all the schematics.  He gave a thumb drive to the agent which contained more schematics of the USS Gerald R. Ford.
A phony escape plan was handed to Awwad by the agent in a manila envelope, with $1,ooo in currency, right before Awwad was arrested.
U.S. District Judge Raymond A. Jackson sentenced 36-year-old Awwad with 11 years in prison.
"Awwad took advantage of his position of trust within the Navy to share the schematics of the USS Gerald R. Ford nuclear aircraft carrier with individuals whom he believed were representing a foreign government," said Assistant Attorney General Carlin. "The National Security Division will continue to seek justice for those who abuse their access to sensitive defense information."

"Awwad attempted to steal the valuable plans for the USS Ford and to provide them to a foreign government," said U.S. Attorney Boente. "This office is committed to safeguarding our nation's sensitive defense information, and we will bring to justice those who seek to steal it. I want to commend our partners at the FBI Norfolk and NCIS Norfolk for their excellent work on this case."

"The mission of NCIS includes protecting Sailors and secrets," said Special Agent in Charge Quick. "Awwad endangered both; for personal gain and to help strengthen another nation's military. It's gratifying that NCIS was a part of bringing him to justice."
Although it's great that this traitor was caught, such an act of treason deserves nothing less than the death penalty.
Source: FBI  Truth and Action