There are several key names murmured to be in the early running for the Democrat 2020 presidential election. But, none hold the reverence and power of Michelle Obama and the golden era of Spamalot. They're a lot better euphemisms out there for the Obama equivalent to Camelot. But for the sake of my job and censorship, use your imagination and leave your best ones below in the comments.
This ties into the subject at hand – the global political (puppet) financiers want the Obama's to become a dynasty, a dynasty that can lead to the New World Order. That was what Barack Hussein Obama was supposed to do. That is not to suggest that he didn't try to break this country at every turn or that the entire system didn't almost collapse numerous times under his watch. It was instead that the people were yet too strong in connection to the global chain of events at former President Barack Hussein Obama's disposal for facilitating dysfunction. However, IF efforts to subdue President Trump and render his time thwarted and stalled continue to prevail – all they need is another 4 years of Obama 2.o to finally bring this country to the brink.
Major Democratic donor Marc Lasry told The New York Times, "'It's gotten ridiculous," and the Democrats "need a clearer message about what they want to do, not just about opposing Trump."

As I've said before, the Democrats need an alternative plan to rebuild and unite the party if they have any hope in winning back seats in Congress in the 2018 midterms, nonetheless the White House in 2020.

This alternative plan requires a new, united opposition, led by a political leader with widespread popularity.

The only person I can see accomplishing this would be none other than the party's most popular political figure: Michelle Obama.
Think of a Michelle presidency like a Barack Hussein only official written policy or protocol to "hug the terrorists" instead of shot or impression.
That is where we are headed. Norway has already implemented a "hug the terrorist" program. The things that seem so sickening or funny are our impending reality. And if liberal political financiers and backers have their way – Michelle Obama just might be the lady giving the illusion of leadership as we succumb to the 'Brave New World'.
Furthermore, Michelle Obama's favorability rating is significantly greater than President Trump's. According to the RealClear Politics Average, Trump's latest favorability rating lies at 39.7 percent — a whopping 30 points less than Michelle Obama.

Just last month, Public Policy Polling found there to be "significant yearning for a return to the days of President Obama," with 52 percent of voters saying they wish Barack Obama was still president, and only 39 percent preferring president Trump.

In fact, in a series of hypothetical match-ups between leading Democrats and President Trump, Barack Obama's 52 percent represents the highest level of support, outnumbering Bernie Sanders, Joe Biden and Elizabeth Warren in particular.
Democrats know they need a better political platform than just reactively resisting President Trump at every turn. Their money is on Barack and Michelle Obama to bring back ole that old love for the regressive left back to the forefront and make up the time lost with President Trump.
AND MAKE NO MISTAKE – EVEN FAWNING LIBERALS ACKNOWLEDGE A MICHELE PRESIDENCY WOULD REALLY BE BARACK HUSSAIN OBAMAS'S 3RD TERM!
This data makes it clear that President Obama, or at the very least a candidate intimately associated with his tenure, would have a better chance at defeating President Trump than any of the 2020 hopefuls.
But, you have to take this in context that these stats are coming from the same people who think most of the country likes Michelle Obama…
According to the January 2017 USA Today/Gallup poll, Michelle Obama left the White House with a 68 percent favorability rating, compared with 58 percent for President Obama and 61 percent for Vice President Biden.
At the end of the day, it's still a numbers game, even if we know the numbers are screwed or fake, and how the Democrats love depriving their voters of fair democratic elections. Will President Trump's voter fraud commission be enough to keep the system in check and save American democracy? Too soon to tell. But, it does go to serve how important all of these smaller issues the President is tackling (to the disdain of the fake news calling him a paranoid lunatic)  are for protecting the very fiber of our country.
Liberals will worship Michelle Obama no matter what she does. She literally abused a good premise (that children should get the BEST lunches) to create a fraudulent network that left children hungry. But, Democrats praise her for it! She preaches tolerance and love but glares at an attractive woman while grabbing her crotch. How does that add up?
Considering that Michelle Obama had an even higher favorability rating than President Obama when he left office, she clearly would have a tremendous opportunity to succeed if she ran.

As an analyst, I believe that she is the candidate the divided Democratic Party needs. Otherwise, the party could well rip itself apart.

Michelle Obama stands a cut above the rest as the only prospective candidate who can bring the party together, rebuild the Obama coalition, win back the Midwest and, thus, win the presidency.
Who knows. To liberals 0+0 will always equal 100% unless it conveniently hurts somebodies feelings in an economically favorable manner, of course.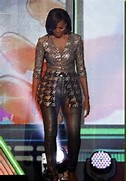 Source: The Hill