Megyn Kelly managed to get a lot of attention focused on herself during her year-long conflict with Donald Trump.  Mr. Trump has been very critical of the liberal media bias during this campaign, which is a natural reaction if you are a conservative.  With FOX being thought to be much more sympathetic to conservative viewpoints than MSNBC or CNN, it initially seems unusual that Kelly would be the subject of Mr. Trump's outrage.  Except that Megyn is not precisely what she appears to be.
FOX News host Megyn Kelly is making the media rounds promoting her new book "Settle for More" on her trials and tribulations as a top FOX News anchor.

On Sunday Kelly accused her fellow FOX News hosts of "just acting" when they asked Donald Trump hard questions during the campaign.
So Megyn just fired another round in her war with Donald Trump.  Only thing is that this time, note that she attacked fellow FOX News hosts she refused to name.
Mediaite reported:

Kurtz recounts from her book the charge that there were pro-Donald Trump TV hosts who "would arrange with Trump in advance to ask him certain critical questions or do certain hits on him so they would appear to have some credibility."

He asked if she means they were "play-acting." Kelly responded, "Yes. It was acting."

She confirmed it happened at more than one network, but could not divulge any more information. "But trust me," she added, 'this did happen, and it's been confirmed to me by more than one television executive."
Sean Hannity decided to enter the conflict by calling her out.
Sean Hannity responded to Kelly's accusation yesterday evening on Twitter.

"I would love to know who was "Acting"."

Sean wants to know who she is talking about.

"Curious who she was referring to. I am transparent, I want to defeat Isis, protect the homeland and get people out of poverty and working!"
So far, we are still waiting for Megyn to provide some specifics — although without holding our breath.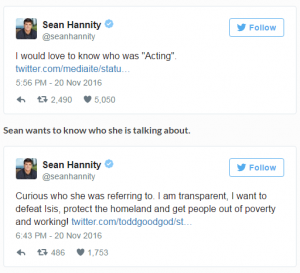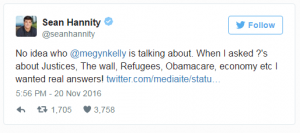 Source:  The Gateway Pundit