John McCain's return to Congress has been heralded as a great event in the Swamp, with a standing ovation for the Arizona Senator from both RINOs and Jackasses alike.  Fortunately, he appears to be healthy enough to go on in his duties.  Unfortunately for the rest of America, he appears to be healthy enough to go on in his duties.
With his return to Congress, other things that have been percolating in the wings that require answers and will (most likely) not see them.  McCain is well-known for this adulation of the Left, his embracing of their ideology, their political correctness and their fetish of microphones and cameras, especially when it means that they'll be on the nightly news in every living room around the country.  McCain is also a noteworthy opponent of President Donald Trump.  We know this for many reasons, not the least of which is his willingness to pass on fake intelligence dossiers to the FBI in order to frame Trump as a criminal.
In addition to that, we are also aware that he was one of the few politicians in the GOP who actively rallied around Barack Hussein Obama's policies, despite his humiliating loss to the man only years earlier.  His leadership in visiting Syria on multiple occasions and praising the Muslim Brotherhood, al-Qaeda, and ISIS (inadvertently) through recorded meetings with "rebels" in opposition to Assad has been vocal and obvious.
His newest foray into even more questionable enterprises appears to be annoying his critics.  However, the questions arising from this wide array of below-board interactions is perhaps even more annoying to McCain himself.
Sen. John McCain (RINO-AZ) has an eponymous foundation, the McCain Institute for International Leadership, that is less known and much smaller in scale, but rivals the Clinton Foundation in corruption.

The Institute describes itself as a tax-exempt non-profit and "non-partisan do-tank dedicated to advancing character-driven global leadership based on security, economic opportunity, freedom and human dignity – in the United States and around the world."

Reporting for The Daily Caller on June 19, 2017, Richard Pollock writes that the  Institute began with $9 million left over from McCain's failed 2008 presidential campaign, and has become a huge operation, featuring upwards of 80 people including dozens of full time staff and board members. Associated with Arizona State University, the McCain Institute has assets valued at $8.1 million.

According to Pollock:

"Critics worry that the institute's donors and McCain's personal leadership in the organization's exclusive 'Sedona Forum' bear an uncanny resemblance to the glitzy Clinton Global Initiative (CGI) that annually co-mingled special interests and powerful political players in alleged pay-to-play schemes."
The article goes on to focus on five of the main reasons that McCain appears to be suspect in his dealings with these many organizations.  The top reason is his involvement with the Saudi government.  According to a WikiLeaks admission tweeted this past February, the McCain Institute has been funded by the Saudis and has direct ties to Clinton, as one of the trustees of the Institute is a close friend of Hillary Clinton.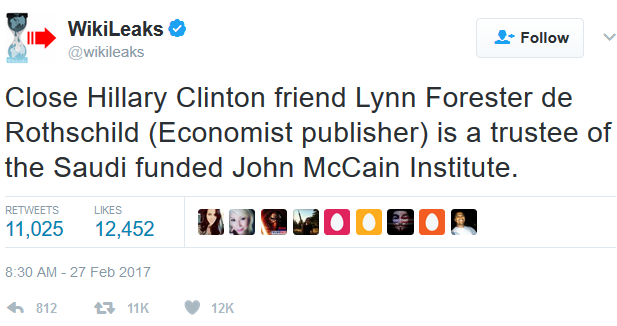 Baxter Dmitry of YourNewsWire observes that the secretive $1 million donation from Saudi Arabia "looks suspiciously like a Clinton Foundation style pay-for-play 'donation'" and explains why Sen. McCain has "certain 'viewpoints' about the Middle East, and keeps making secret trips to Syria." Saudi Arabia, as well as Israel, are adamantly opposed to Syria's Assad government and seek its overthrow by "rebels" who include Al Qaeda jihidasts.

More than that, according to the censored 28 pages of the 9/11 Commission's report, the Saudi government was involved in the 9/11 attack. John F Lehman, a Republican member of the 9/11 commission, said:

"There was an awful lot of participation by Saudi individuals in supporting the hijackers, and some of those people worked in the Saudi government. Our report should never have been read as an exoneration of Saudi Arabia."
 In addition to the very strange addiction that American Senators seem to have for Saudi gold, McCain has ripped a page right out of the Clinton funding rulebook regarding friendships and rubbing elbows with your societal betters.  The Clintons were well-known to throw parties and invite very wealthy individuals while he was still a governor in order to probe their minds in reference to get-rich-quick schemes.  Hillary was obsessed with being wealthy and pushed her husband in ever more upward circles in order to achieve those means.  When they ran into trouble regarding the so-called "bimbo eruptions," one of the main catalysts for what would eventually become the Clinton Family Crime Foundation was the Clinton lust for money.  John McCain looks to be following precisely in such footsteps.  The Rothschilds are the next focus.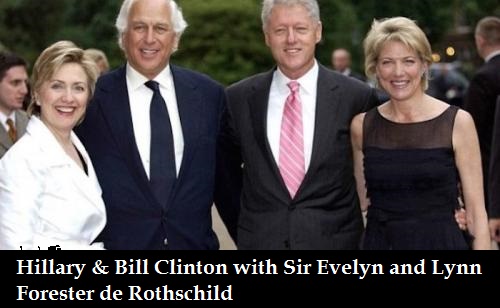 John McCain has been accused of accepting improper campaign donations from the Rothschilds. U.S. political campaigns are forbidden from accepting contributions from foreign nationals.

According to the nonpartisan citizens' watchdog group Judicial Watch (via The Guardian), in 2008 John McCain violated election laws by accepting campaign contributions from two non-U.S. nationals.

At issue is a fundraising luncheon held in March at London's Spencer House during McCain's swing through the United Kingdom. An invitation to the event lists Lord Rothschild and Nathaniel Rothschild as hosts, and indicates the event was made possible with their "kind permission". Tickets to the luncheon cost $1,000 to $2,300.

Judicial Watch president Tom Fitton said: "The question is whether or not the Rothschilds paid for the event, the venue, the catering, or any other related costs."
As if these were not enough to question the trustworthiness of a man who is a prime lifetime member of the Republicans-In-Name-Only (RINO) country club located in Swampland, USA, he has further eroded his name by his sinister friendship with George Soros.  According to the Daily Caller, this is a recipe for subversion and corruption on a scale not even imagined was possible.
According to Richard Pollock of The Daily Caller, the McCain Institute has also "accepted contributions of as much as $100,000 from billionaire liberal activist-funder George Soros" and from Teneo, a for-profit "global strategies" company founded by a Clinton crony named Doug Band, who was Bill Clinton's "bag man". As Pollock puts it, "Teneo has long helped enrich [Bill] Clinton through lucrative speaking and business deals."

Pollock says McCain and Soros became friends after the senator was exposed as a member of the "Keating Five" in the savings and loan (S&L) industry scandal that erupted during George H.W. Bush's administration. As the S&L bank chairman, Charles Keating had paid $1.3 million to bribe five members of Congress, including McCain, to interfere with government regulators on behalf of the savings bank.

The experience so scarred McCain that he became a vigorous advocate of campaign finance reform and in the process reportedly became friends with Soros — the thoroughly evil funder of black riots here in the United States and of the Muslim invasion in Europe.
As can be seen, McCain's focus on "globalism" makes him a dangerous enemy of the American people and a staunch advocate of the United Nations.  While coming out in dramatic fashion on many occasions against rulings at the UN, he has behind closed doors advocated for the exact same policies with which he publicly disagreed.  His financially deep involvement in the Moroccan government scandal of phosphate futures is equally disturbing, especially when one begins to tie up the loose ends and find that Soros, Clinton, and Obama are all attached.
According to Pollock, the McCain Institute has also taken at least $100,000 in "donations" from OCP, S.A., a Moroccan state-owned phosphate company operating in Western Sahara which repeatedly has been accused of worker abuse and exploitation.

The King of Morocco was also a major donor to the Clinton Foundation. Hillary Clinton personally accepted $12 million from the King in return for holding a CGI (the Clinton Foundation's Clinton Global Initiative) regional meeting in Morocco. OCP, the Moroccan state-owned phosphate company that "donated" $100,000 to the McCain Institute, was a major sponsor of the CGI meeting, and Bill Clinton was the featured speaker.

McCain has lavished effusive praise on the King of Morocco, saying in 2011, that the country was a "positive example to governments across the Middle East and North Africa."
Finally, there's McCain's advocacy of the Iranian Nuclear policy set forward by the Obama administration.  According to reports, the Arizona Senator has accepted at least $100K from the Pivotal Group which is a front organization for lobbyists on behalf of Iranian interests in Washington.  These lobbyists are not technically allowed to be operating in Washington, but they do nonetheless.  Much like Senator Chuck Grassley (R-IA) looking into why James Comey and James Clapper were actively involved in masking the fact that Russian operatives were also working in Washington without registering as foreign nationals under the Foreign Agents Registration Act, these Iranian lobbyists are breaking the same laws.
McCain has accepted funding from them and did little to block the Iranian Nuclear Deal by Obama.  In addition, he claimed after many questions about his institute's involvement with foreign nationals and donations that the institute (that he "has nothing to do with") invested $2.5M toward anti-human trafficking initiatives.
The only problem is every penny of the $2.5 million went to the Arizona State University Foundation that "does not appear to have anything whatsoever to do with human trafficking."
I'm happy that Senator McCain is well enough to lead a normal life.  I'm happy that he has the ability to get the very best healthcare the world has to offer, compliments of the American taxpayer, just because he has spent literally decades without ever having to worry about any expense on his $2M a year salary.  That said, I hope that he retires this year and is replaced by pretty much anybody who will never follow in this man's footsteps.  He has been a source of poison in the Swamp and has never had the courage or the strength of character to depart the corruption that lives there.  That stench that rolls around in front of and in back of Senator McCain is not the Swamp, however.  That is the result of having invited and accepted the Swamp's filth into his bloodstream.  After decades, that reeking smell of death and dismissal of his own moral compass will never wash off his skin.
Source:  Fellowship of the Minds
Image: Ron Paul Institute