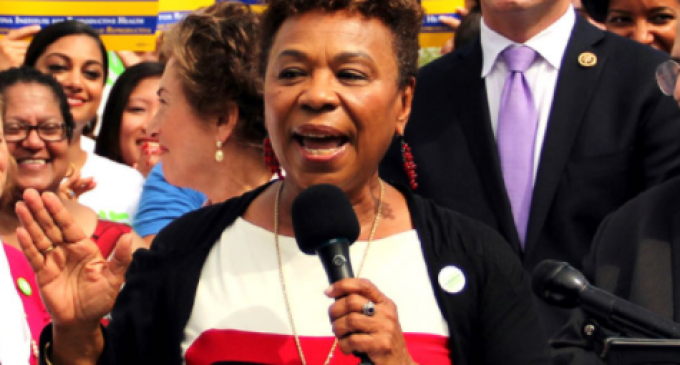 You may not actually know U.S. Misrepresentative Barbara Lee (D-CA) but it would be a great idea to keep a very close eye and ear on this firebrand in the Party of the Jackass. Normally, I don't pay much attention to members of the House, but that's going to change. I feel like I will have to take a close scrutinizing look at every single member of the 400+ body from here on out because, as Lee proves, the Leftists have not ended their perpetual march toward the cliff's edge.
Lee serves the 13th District of California (East Bay (Oakland) from 1998-2013 as the then-9th District). She was the first woman to represent both the 9th and 13th Districts and was the Chair of the Congressional Black Caucus and the Co-Chair of the Congressional Progressive Caucus. She is the only member of Congress of either chamber to vote against the use of force following the September 11, 2001 attacks. She is the darling of the anti-war movement and has been advocating for the creation of a Department of Peace.
It appears that, like Barack Hussein Obama, she has an immense chip on her shoulder regarding both race and the country itself.  In 1972, she was president of the Mills College Black Student Union and she was a volunteer at the Oakland chapter of the Black Panther Party's Community Learning Center and worked on Panther co-founder Bobby Seale's 1973 Oakland mayoral campaign.
She is one of the staunchest defenders of abortion-on-demand, no matter the circumstance and is a fierce opponent of the Stupak-Pitts Amendment which sought to restrict abortion coverage under the guise of the Unaffordable Health Care Bill (ObamaCare).
By far, however, was the crowning achievement of being the only Democrat to vote against the use of force following 9/11 and this led to a ferocious opposition to the Authorization for Use of Military Force Against Terrorists (AUMF). Since 2001, Lee has been bent on doing away with this law that was initially approved to provide the executive branch the legal authority to take military action against the al-Qaeda terrorist network in response to the Sept. 11, 2001, terrorist attacks. Granted, all throughout this period, she barely batted an eyelash at the thousands of Barack Obama-initiated military operations that took place during his tenure.
Now, she has finally made some headway in the House by introducing a resolution to do away with the AUMF, thereby limiting the president's options if and when another terrorist attack takes place.
Read more about this shameful vote that garnered support from Liberals and Establishmentariat RINOs alike on the following page.