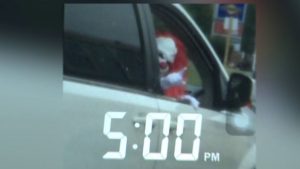 Reports in Florida include a clown watching a woman as she walked her dog, and in Marion County, FL, police are concerned after a viral video surfaced, showing a clown watching cars from a bush on the far side of the road. That's what nightmares are made of.
In Henrico County, Va., a mother and daughter captured a "creepy clown" leering at them from another car during rush hour.

The clown matches the description of another creepy carnival act, reported to be hanging out near the edge of a forest in nearby Augusta County, Va.  Authorities there responded to a 911 call from a father fishing with his two children just after 9 p.m. on Saturday.

According to the police report,  the father "was approached by two separate vehicles leaving the area at a high rate of speed. Both vehicles stopped to warn him that several people in the adjacent woodland area were dressed up as clowns. According to the caller, the people leaving the area were pretty upset over the clown sightings."
Authorities were not able to locate the clowns.

They and the Weld County District Attorney's office are not taking the clown threat sitting down, however, and have issued a warning that anyone caught wearing a clown costume and threatening community members will be dealt with harshly.

Impersonating a clown for nefarious purposes, Weld County says, is a felony and could carry with it a jail sentence of up to 18 months.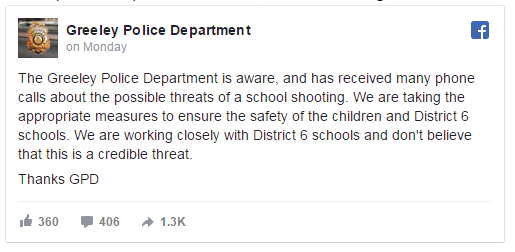 The only thing scarier than clowns are clowns that the cops can't find. The only good clown is one that's in handcuffs. The question now on everybody's minds is: what do these clowns want? Why is this happening now? Nobody dresses up as something that scary for innocent purposes. There's defintely something going on, and it's frightening.
Source: heatst.com