So called Life Coach, Jaxi West, tweeted a patently offensive comment right after the execution of Darren Goforth.
It reads:
@FoxNews a black man kills a white cop. Not to be mean, but this is what justice looks like.  Usually a white cop kills an #unarmedblackman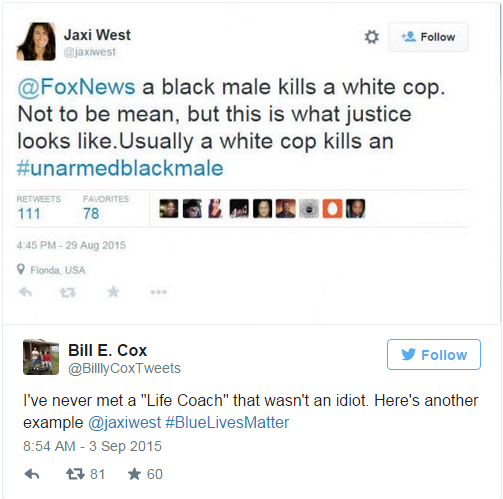 West could not handle the heat after people commented about the hate filled content and made the account private.  Responses were harsh, as they should be.  Someone has to reprimand hateful stupidity.
One comment said:
Wonder if @jaxiwest was #MonicaFoy's #LifeCoach she'd advise her to not call attention to herself with a arrest warrant over her head? -mao
Her bio on Twitter reads:
"Entrepreneur. Leader. Challenging you to take you/your business to max potential. Providing the info to help you do that. I focus on strategy, action, results."
West seems to need her own life coach to teach her etiquette, the golden rule and how not to be stupid and hateful when using social media.
Follow the story at Breitbart