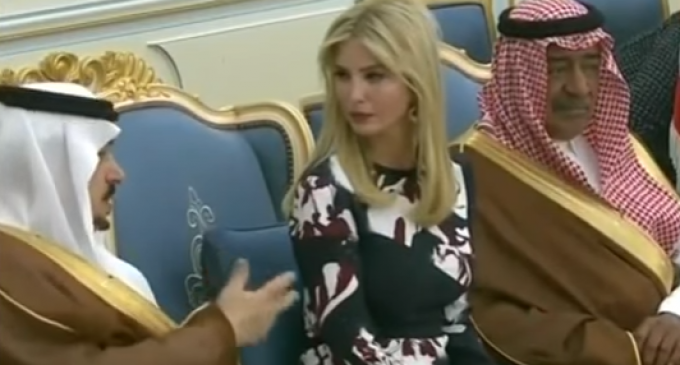 Prepare for the onslaught of "tolerance" about to avalanche down upon Ivanka Trump.  This idea for a woman's empowerment issue called the World Bank's Women Entrepreneurs Fund is the brainchild of both German Chancellor Angela Merkel and First Daughter Ivanka Trump.  Judging from the initial reactions of the Libs, you'd believe that Donald himself jumped in to strong-arm the Saudis to sign on to this deal in an effort to funnel treasure into the Trump coffers back home in Manhattan.  But this choice of causes (along with a choice of partners in Merkel) appears to be headed for more controversy than actual traction.
Regardless of the reality, the World Bank is touted by "true believers" as being a multi-national financial management corporation that takes in and doles out funding for projects all over the world that it holds up to two important criteria:  1) the nobility of the cause, and 2) the advancement of the human condition.  The World Bank has steadily grown its influence on the planet as a group that backs many nation-building initiatives, but without breaking the backs of member nations.  The rallying of individuals and groups with influence to the cause of the World Bank have allowed it to build up a steady repertoire of projects totaling nearly 13K in number in 173 different countries to date.
Many people on the Right, however, view the World Bank with suspicion through the New World Order (NWO) lens where the keepers of the cash are the globalist-minded, European Union bigwigs who gaze down their aquiline noses in Brussels toward the huddled masses in a mixture of dollar signs and unending cheap labor.
The specific project here of Women Entrepreneurs Fund is said to be a centrally-focused fund that will distribute its monies to women entrepreneurialism in all regions where the ratio of men to women in business ventures is far outweighed by the male counterpart.  In a press release this morning, the Saudi Arabian and the United Arab Emirates governments have agreed to invest $100M into the World Bank's newest project.  At the helm of the sponsorship of this program is Angela Merkel and Ivanka Trump.  And where Angela Merkel is involved, Barrack Obama and George Soros are not far behind, skulking in the shadows.
You wouldn't know this from the headlines however, as many of the Leftist rags and mainstream media are focusing solely on the Trumps and their perceived muscle in this organization rather than the globalist-provoking ideology of the World Bank itself.  Where was this type of scrutiny with the Clinton Crime Family Foundation?
In an effort to suggest more wrong-doing on the parts of the Trumps, the MSM has opted to completely ignore the millions invested in an organization with shadowy ties to the United Nations and dictatorships in the Middle East.  Their efforts are geared once again toward a mysterious non-link between global pet projects and the Trump family enterprises.