Generally, the Trump administration's response to the natural disaster has been well received, giving the media little to carp about. In anticipation, their stories positioned the situation as the first "big test" of the Trump presidency.
It's safe to say, given the many thousands rescued from the flooding and the quick opening of shelters for those flooded out of their homes, most objective observers will give the president an A+ grade.
Arriving at the shelter at the NRG hurricane relief center, the President and Mrs. Trump entered a room with families and children, many of whom came over to hug the president and First Lady.
Picking up a little black girl and kissing her, the president showed his heart and true nature, much to the chagrin of his haters in the media. After visiting with families, and Melania Trump playing with some of the children, the First Couple began making their way toward the area where meals were being distributed.
Reporters asked the president how people were responding to him.
"A lot of love," the President told reporters of his time at the relief center. Asked about the families that the president met with, he replied, "They were just happy, saw a lot of happiness."
President Trump noted he'd already begun signing documents to allocate $7.9 billion in aid to victims and recovery efforts. He characterized the effort as being "well received."
It was in the meal distribution area that the most remarkable footage emerged. The president and Mrs. Trump handed out meals to victims, many of whom stopped to thank them, shake hands and ask him to pose for "selfies" with them. He easily and happily obliged them, offering encouragement and assuring them help would continue.
For Democrats and media figures who've gone well out of their way to paint President Trump as a "racist," it must have been especially galling to see how many black and Hispanic victims greeted him warmly, thanked him for coming, and eagerly sought pictures with him.
Finally, a real journalist named Elex Michaelson for ABC-7 in Los Angeles posted the following tweets on Twitter:
Elex [email protected]:
Evacuees who snapped this selfie w @realDonaldTrump says the encounter changed their opinion of him. Found him to be kind, reassuring."

I think he's a wonderful man!"

#Harvey evacuee Joe Boyd is served lunch by @potus. His wife told me, "if he died & went to heaven today, we got to see @realDonaldTrump!"
Nothing like seeing a false media narrative about a man lacking empathy and being racist get destroyed by a member of the media.
Adding to the media's frustration with President Trump's total success in managing the response to Hurricane Harvey were the crowds lining the roads for his motorcade, with pro-Trump signs and cheers.
From the relief center, Trump continued on to First Church in suburban Pearland. On the trip over to the church people were seen waving, taking photos, and waving American flags as the motorcade passed by. Hand drawn signs with messages of "Thank you Trump" and "We love Trump" were seen as the motorcade arrived in Pearland."
President Trump declared yesterday a National Day of Prayer for the victims of Hurricane Harvey, which no doubt caused a number of liberal heads to explode as well. He and Mrs. Trump attended services at St. John's Church across from the White House.
His critics will just have to get used to the fact that the United States again has a Christian, pro-America president who's dedicated to putting God, America and Americans first.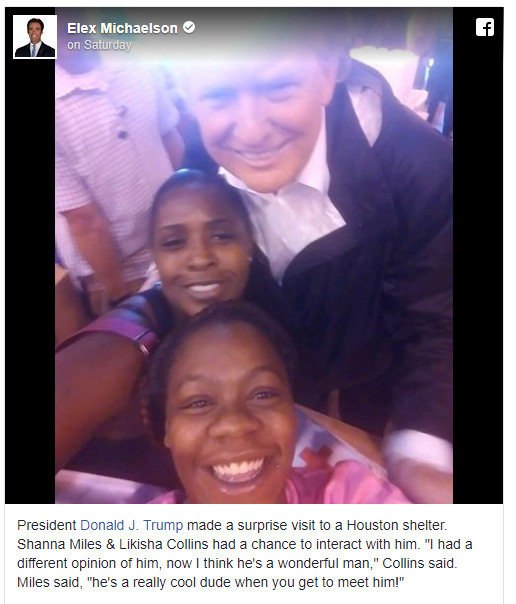 Source: Breitbart