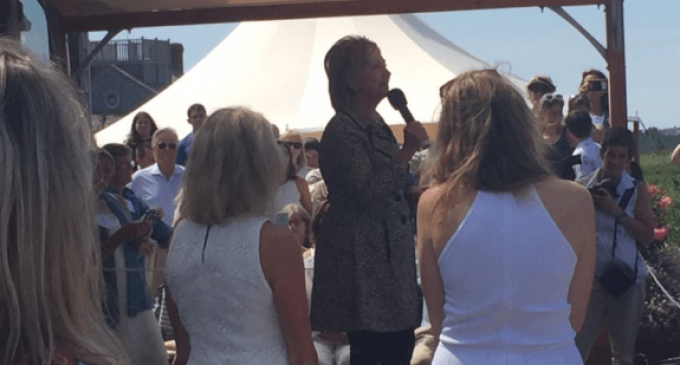 Much like the children's book Where's Waldo, many have been wondering #WheresHillary?  Her presence on the campaign trail has been scarce.  She has not shown up in Baton Rouge to support the flood victims and the mainstream media claims that she is "going small".
The campaign has her only doing a few fundraisers in the near future, which makes for more speculation that Hillary is not well.
One such fundraiser was in Nantucket.  The weather was a warm 76° degrees and Hillary was wearing a heavy winter coat as she spoke to the guests.  Many who saw her inappropriate summer attire once again questioned if her health issues were the reason for her cumbersome get-up.
There is the mystery of the bulge under the green jacket she was wearing when she was unable to walk up the steps at a North Carolina fundraiser.

As a reminder, Hillary suffered from blood clots in 2012.  Could this bulge under her jacket be a LifeVest Wearable Defibrillator?
Read more about the wool coat Hillary donned for the Nantucket $100k /plate fundraiser on the next page.