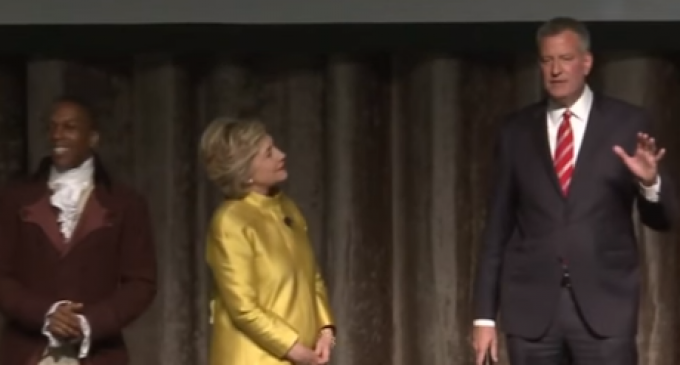 Hillary Clinton probably regrets getting an endorsement from Bill De Blasio after a controversial statement he made at a press dinner just feet away from her.
Speaking alongside the Democratic frontrunner and Hamilton star Leslie Odom Jr., the mayor of New York took part in a comedic skit meant to entertain the reporters attending the event. While the material was predictably yawn-inducing, one particular joke pushed the skit from asinine to offensive.
At one point, Clinton thanks De Blasio for throwing his support behind her, saying that it "took [you] long enough," to guffaws from the enraptured audience. Out of the myriad of ways to respond to this feeble attempt at a joke, De Blasio decided that saying he was "running on C.P. time" was the way to go.
In case you're scratching your head over what that means, C.P. time is short for "colored people time," in reference to a racial stereotype that African-Americans are usually late to engagements.
While some might have been confused by the reference, the people at the dinner definitely were not, with them audibly booing De Blasio as Hillary watched helplessly.
See De Blasio joke about "CP time" on the next page: