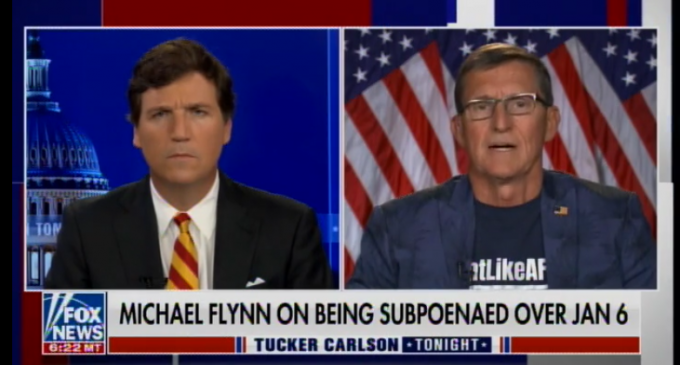 Former National Security Adviser General Michael Flynn joined Tucker Carlson on Friday following the news that President Trump's former Chief Strategist, Steve Bannon, was indicted by Attorney General Merrick Garland on charges not seen in the DOJ for forty years.
"The DOJ is now the enforcement arm of the Democratic Party, punishing anyone who doesn't comply with the demands of Nancy Pelosi and Liz Cheney's January 6th commission," Tucker said at the top of the show.
Flynn, who has been a target of the mainstream media and the Leftists who control it for years, was asked for his opinion on the actions taken against Bannon by the Biden administration.
The general bluntly said that it "shows the speed in which the Democratic party is moving to confirm their complete takeover of this country."
"I think what we are really facing is an attack or an assault on all our basic rights," Flynn said.
Watch the interview on the next page.