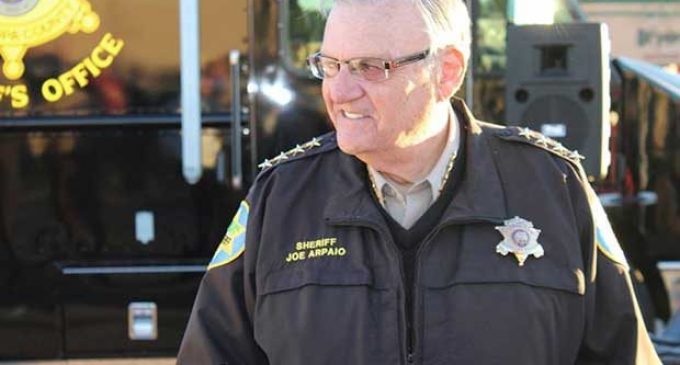 "America's toughest sheriff" might be heading to jail. Legendary sheriff and law enforcement officer, Joe Arpaio is in legal trouble for detaining illegal immigrants. Locking up illegal criminals is frowned upon in John McCain's home state of Arizona.
This all started back in December 2011 when U.S. District Judge Murray Snow issued a preliminary injunction aimed towards Arpaio. Judge Snow, in essence, declared that law enforcement officials could no longer detain illegal immigrants just because they entered the country illegally.
Maricopa County Sheriff, "America's toughest sheriff", Joe Arpaio didn't stop protecting his territory just because a politically correct judge tried ordering him around. Arpaio continued to detain illegal immigrants.
You can imagine how senile liberal folks and RINOs feel about "America's toughest sheriff", talking like this,
"Our own President has overseen the release of thousands of illegal immigrants…hundreds of whom are convicted criminals – even felons, which are flooding into America," states Sheriff Joe Arpaio from Arizona.

"Every day you read the newspaper or turn on the news, there is something tragic happening, something Obama says is beyond our control.

"But I must tell you: the state of the U.S.–Mexican border IS NOT BEYOND OUR CONTROL. In fact, it's one of the key places where the safety of our nation starts. AND I am working around the clock to take criminals off the streets."Every action Obama has taken since the border crisis began has led to an increase in the flood of men, women, children, AND CRIMINALS! The icing on the cake…Obama's solution is holding events at the White House "honoring young adults who came to this country illegally."
Judge Snow didn't take too kindly to Arpaio speaking out about Obama destroying America or continuing to go after illegals. Arpaio is being prosecuted for criminal contempt and continuing to detain illegal immigrants. More on the next page on Arpaio's trial, GUILTY conviction, and the FIGHT to overrule Arpaio's wrongful convection