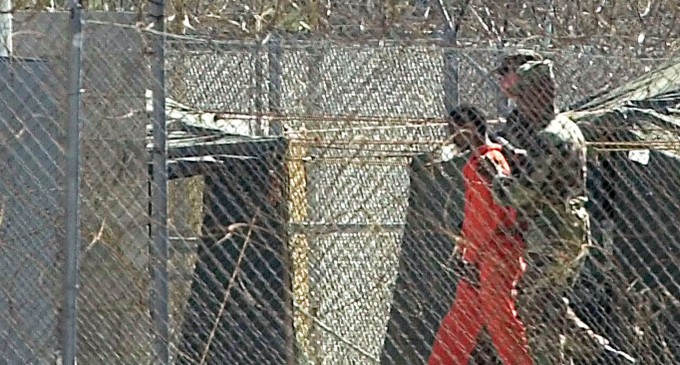 Obama promised his blind followers, in 2008, that he would close Gitmo and now as his presidential reign is coming to an end, he is upping his ante to make good on that promise.  He has promised to circumvent Congress and do it his way. Period.
Speaker of the House Paul Ryan has promised a fight if Obama tries to close GITMO with Executive Action. "He can't. He doesn't have the authority to do it. It's just that clear," Ryan told Mark Halperin.
Oh, but he can, he's lawless and does whatever he wants, pretending he cares about the Constitution up until the moment he violates the law.
On the very day that he revealed his plan to close the Guantánamo Bay prison facility, a previous inmate at Gitmo, who had fought for al-Qaeda in Afghanistan, was captured by Spanish police.
The police raid was against an ISIS terror cell, and the former Guantánamo detainee turns out to be 'a leader who was trained in handling weapons, explosives and in military tactics'.  According to the Interior Minister Jorge Fernandez Diaz, this jihadist was returned to Spain in 2004, after being captured and held at Gitmo in 2002.
Obama is hell-bent on closing the facility and bringing the remaining 91 inmates to U.S. prisons on the mainland.  These men are military combatants and should be treated as such.  Read more about the former jihadist Gitmo detainee on page two.