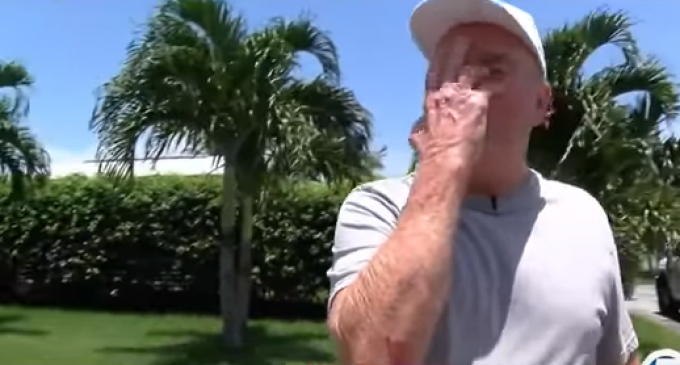 A man from Boynton Beach, Flordia, says he was attacked on the Fourth of July after he refused to take down a Trump "Make America Great Again" flag that was planted in his front yard.
Jeff Good said he was watching fireworks in his driveway when someone drove in front of his house and started maligning President Trump.
"He was saying vile things about our president," said Good.
The driver of the car then demanded that Good remove his Trump flag. When Good refused the man punched him 'right in the face'. Good added, 'In fact, he kinda used like a claw method'.
Good said he instinctively tried to punch back, but got his arm stuck in the man's car as he drove off. Good was then dragged for about 30 feet.
"I have some bumps and bruises that I don't think you want to see," Good said as he revealed cuts and scrapes on his hands and elbows. "My political goal here is just to express my love for this president and for somebody to punch you in the face for just presenting the flag to the public, that is enough said right there."
Turn the page for video: