Just how far will Trump Derangement Syndrome take the left? Will violence against Trump supporters continue to increase? Jeff Good from Boynton Beach, Flordia, says he was attacked while enjoying fireworks on the Fourth of July after he refused to take down a Trump flag that was planted in his front yard.
A man in Boynton says he was punched and dragged by a car after the driver told him he needed to remove the Trump flag in his yard. Story today @WPTV at 5:30. pic.twitter.com/HWedeLMbuQ

— Miranda Christian (@MirandaWPTV) July 5, 2018
A Boynton Beach police spokeswoman told Fox News officers were called to the residence the next morning. The suspect is described as a white male with a silver compact car.

"We have a very limited description" of the suspect, Stephanie H. Slater, public information officer for the Boynton Beach Police Department, told Fox News on Friday. "We're hoping if there are neighbors in the area who have home surveillance if they can check their video cameras."

Good has abrasions on both palms and bruising on his elbows and right hip, according to the police report.

"My political goal here is just to express my love for this president," Good said. "For somebody to punch you in the face for just presenting a flag to the public, that's enough said right there."

Good's flag sits in the middle of his yard, near the road and flanked by palm trees.

"He'll still be the president tomorrow and the day after," he said. "So might as well keep the flag there today, tomorrow and the day after."

Neighbor and friend Donald Tarca Jr., who is also a Trump supporter, took to social media in an attempt to find the alleged attacker. He said he encouraged Good to file a police report and even posted a sign in his own yard.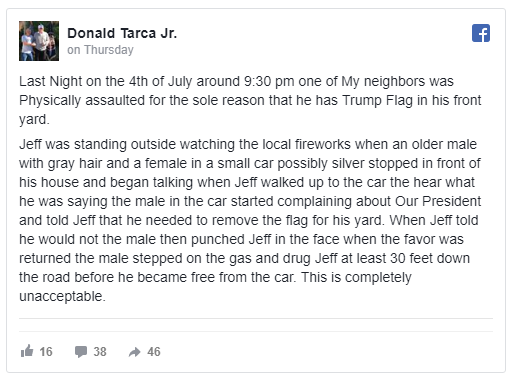 Source: Fox News