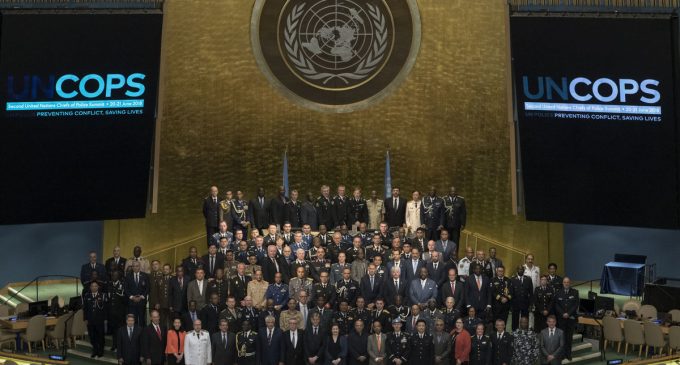 In 2015, all United Nations countries adopted the 17 Sustainable Development Goals with the aim of achieving Agenda 2030. Its purported goal to 'strengthen universal peace and prosperity' with the motto 'leaving no one behind'.
Also launched at the UN in 2015 was the Strong Cities Network (SCN). It's the first global network of mayors, policymakers and practitioners who united to 'build social cohesion and resilience to prevent and counter violent extremism in all its forms.' It comprises more than 150 cities from across every major global region.
AG Loretta Lynn announced the Strong Cities Network initiative at the UN. From that announcement:
I want you to know that the Obama Administration is deeply committed to ensuring that the Strong Cities Network is as strong, vibrant and resilient as the cities it unites – because we know this model works. Here in the United States, we have joined with local partners to bring down far-flung human trafficking rings, to strengthen trust in law enforcement, to thwart cybersecurity threats and to combat official and international corruption.
Few cities in the U.S. have joined the network to date. But this year the Council on Foreign Relations called on Biden to 'increase collaboration' with the initiative in order to combat 'far-right' ideology.
Partnerships with like-minded nations were critical to developing collective action in the fight against the Islamic State, and they can now pioneer efforts to address violent extremism in U.S. communities. This is particularly important as the United States is now the leading source of far-right ideology, finding its way overseas to inspire extremists such as the gunman in the Christchurch, New Zealand, attack. America must also reimagine alliances within its own borders, increasing collaboration with initiatives such as the Strong Cities Network.
But what are the real implications for this UN plan for our cities? In a Truth and Action exclusive interview with a high-ranking official at the Los Angeles County Sheriff's Department, we discussed the "Strong Cities Network" and its agenda for a worldwide police force. The officer wished to remain anonymous.