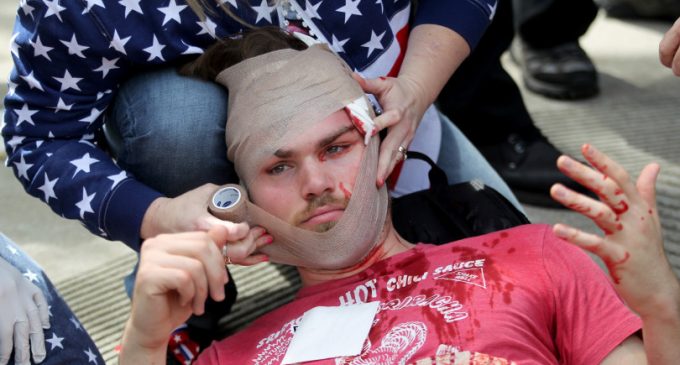 During a Free Speech rally at the Civic Center Park in Berkeley on April 15, 2017, a man dressed in all black with a mask covering his face attacked Trump supporters with a bike lock. One victim, Sean Stiles, who was bloodied with a serious head injury after being struck, prompted 4Chan users to investigate who was behind the attack.
Using the concept of crowdsourcing, /pol/, a sub-section message board hosted on 4Chan, users determined that the attacker was 29-year-old ethics professor and Antifa activist Eric Clanton.
Berkeley police reported that Clanton had assaulted at least seven people in the head with a bike lock. He allegedly hit one victim on a helmet, severing a piece of it off, another in the back and neck, and another across the head creating a wound that required five staples to mend.
Clanton was arrested and charged with four counts of felony assault with a deadly weapon causing great bodily injury. He originally faced up to 11 years in prison and was supposed to have a preliminary hearing Wednesday, but instead entered into a plea deal.
Find out Clanton's fate on the next page: