Truth and Action warned of this a full two years ago when then-State Senate President Pro-Tempore Kevin de Leon introduced Senate Bill (SB) 54 [California Set to Become First Sanctuary State]. Affectionately known as the "California Values Act," this was noted by many on the right to be about anything but "values."
Kevin de Leon is perhaps one of the most radical Democrats who ever served on the State Assembly of California, and that's saying a lot. He got into a bit of hot water on more than one occasion when he spoke about the "necessity" of illegals to steal Social Security Numbers from innocent US citizens due to their inability to find a job otherwise. His endorsement of identity theft was apparent when he admitted publicly that many of his own family members were not only illegals, but that they, too, were stealing identities from Americans!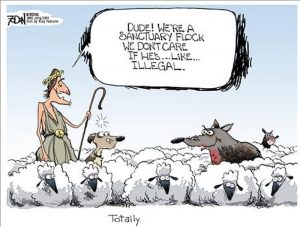 This was the person responsible for the SB54 being passed and then subsequently signed into law by then-Governor Jerry Brown, ultimately making California a sanctuary state! It passed with the support of every Democrat and was rejected by every Republican.
The bill ensured that every local and state police officer, detective, court employee, records registrant, and prison official was compelled to deny Immigration and Customs Enforcement (ICE) agents the ability to request that dangerous illegal felons be detained or that their current whereabouts be released.
This precedent led to a series of other state bills to follow suit. Pretty soon, a full third of the nation's states were denying federal immigration officials from properly doing their job. Dare I say, were they obstructing justice?
The Washington Examiner:
The Bureau of Justice Statistics said that federal arrests of non-Americans rose 234% from 1998-2018. For U.S. citizens, the percentage rose just 10% over those 20 years.

The newly released statistics feed the Trump administration's narrative that an increase in immigration, especially illegal immigration, has fed a spike in crime.

Over that 20-year period, groups such as MS-13 have surged, first in urban areas and recently into rural communities, and drug and human trafficking have also increased over the U.S.-Mexico border.
Also over that period, illegal immigration has surged off and on and the bureau said that immigration crimes account for the bulk of arrests. In the past, Department of Homeland Security authorities have accounted for a majority of the arrests.

"20 years, 95% of the increase in federal arrests was due to immigration crimes. From 1998 to 2018, federal immigration arrests increased 5-fold (from 20,942 to 108,667), rising more than 50,000 in one year from 2017 to 2018," said the Justice Department.
Thankfully, Kevin de Leon stepped down from his position in the California government to run against Senator Dianne Feinstein for her seat as a US Senator, only to be trounced by more than a million votes.
The Trump Administration worked overtime, challenging the validity of these sanctuary state laws and policies which seek to undermine the federal justice system and which also make this nation a lot less safe.
All of that was quickly undone by the disastrous Biden admin.
Source: The Washington Examiner
Image: Newjerseycriminallawattorney.com