The DNC doesn't have time for men. Forget being broke and a national embarrassment. The real problems facing the DNC is ensuring proper procedures are in place preventing straight white men from getting jobs.
Though the Oct. 30 email says that the DNC is looking for a "staff of diverse voices and life experiences," it apparently doesn't mean white men.

DNC's Data Service Manager Madeleine Leader purportedly wrote in an email that the desire for diversity excludes "cisgender straight white males."

Leader adds, "I personally would prefer that you not forward to cisgender straight white males, as they are already in the majority."
"We accept any mentally ill freak human variants capable of regurgitating  liberal policies." – Token DNC Puppet of Satan
We are diverse. You can be anything you want UNLESS you were actually born that way.
Also, for those that are wondering, cisgender means you identify with your biological gender.
How scary is that?! People likening their bodies and capable of understanding biology! Even worse they're white, and wait for it, MALE!
"Progressive" liberal war cries:
NO BOYS ALLOWED.
MEN ARE THE INFERIOR SEX.
WE DON'T TAKE KINDLY TO WHITES IN THESE HERE PARTS.
Here is the email.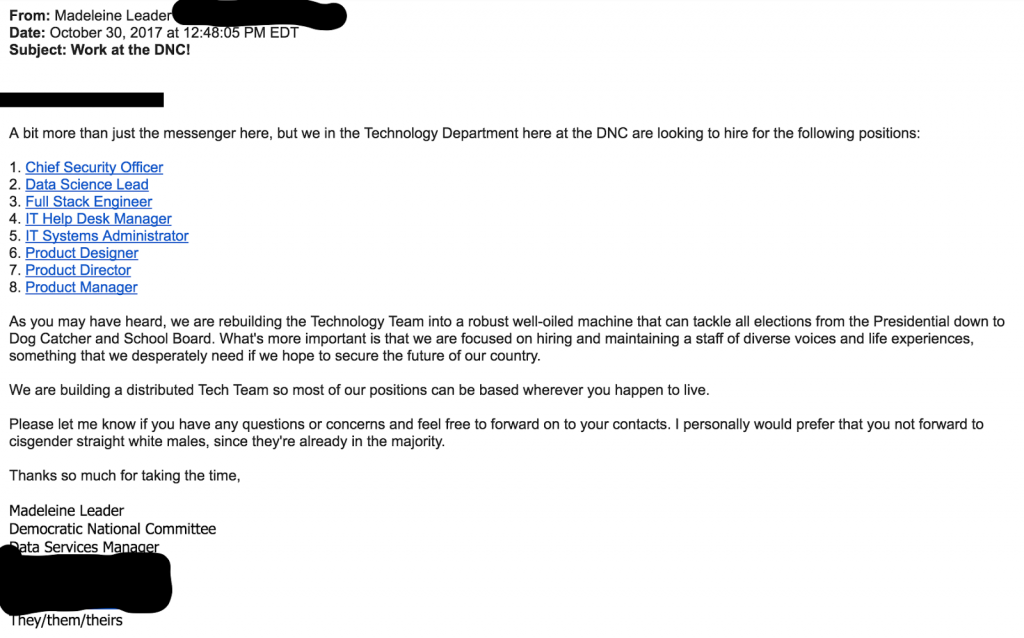 Is there a place for men in a socialist liberal utopia? This question sounds absurd but it is one often encountered in leftist feminist rags.
Men are now considered to be the inferior sex. They don't deserve jobs or equal opportunity unless they humiliate themselves and agree to live out their lives as homosexuals, according to liberals.
Why aren't more men rebelling against the party seeking to enslave their masculinity and brand them as toxic for who they innately are?
Liberal state representatives are even trying to ban men from masturbating.
Feminists don't seem to have too much need for men, of course.
You can't get hired as a straight white man. No one will stand up at large for a discriminated against white men.
What is the alternative?
Liberal socialist feminazis are trying to lay out the groundwork forcing white men to adopt homosexual or otherwise alternative lifestyles.  That is the inescapable reality.
Source: Fox News