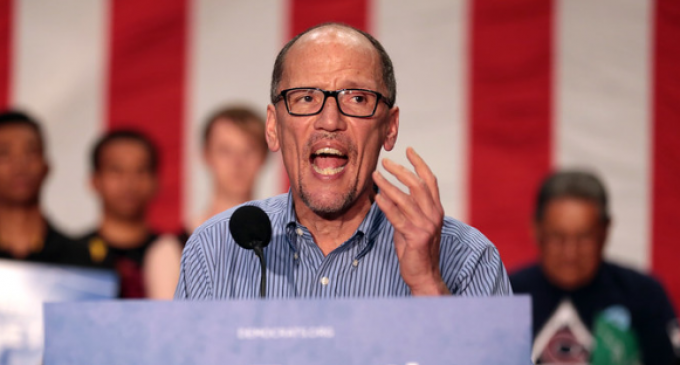 Democratic National Committee (DNC) Chairman Tom Perez will travel to Mexico to hold three party fundraisers in the nation's capital.
According to invitations obtained by Bloomberg News, Perez will hold three events for American expatriates in Mexican City on Sept. 28. The events range from happy hour drinks with a $25 minimum student entry to a dinner where tickets range from $1,000 to $15,000.
The DNC will require attendees to provide information showing that they are American citizens or permanent residents, in order to comply with federal campaign finance laws. About 1.5 American citizens live in Mexico, Bloomberg reported, citing State Department data.

The DNC under Perez's watch has lagged far behind Republicans in terms of fundraising. The DNC took in $8.5 million in contributions in June, while the Republican National Committee reported $20.7 million.

Hillary Clinton will hold a DNC fundraiser at her home in Washington, D.C., on Oct. 16, Politico reported Tuesday. The cost to attend that event ranges from $15,000 to $50,000.
One can't imagine a worse person to fundraise for the DNC than Hillary Clinton. As we reported last November, the speaking events he's held with Bill has failed to sell up to 83% of their tickets.
Bill and Hillary Clinton began their grand 13-city paid speaking tour in a Toronto hockey arena on Tuesday evening staring out at more than 15,000 empty seats. It's enough to make someone sick, and, it did.

The arena holds 19,800 people but the Clintons only manage to attract 3,300 — which works out to 83 percent of capacity. Even though curtains were put up in order to cut the place in half, it was easily seen that the vacant seats far outnumbered the occupied ones.

To make matters even more embarrassing, as the event neared the venue tried and failed to give tickets away at a measly $6.55 each. Ticket prices started out between $200 and $53 Canadian.
Source: Daily Caller