Do you bring fruit to work? Well, you might want to double check and do a liberal "I don't see color" scan around the room and…make sure you see color. Here we have another report of the mind-numbing hypocritical dogma trickling down from the Democrat overlords on the liberal plantation.
A white probationary firefighter lost his job for bringing watermelon into work as a welcome gift on his first day on the job.
Earlier this month, 41-year-old Robert Pattison went to introduce himself to his fellow firefighters at Engine 55 at Joy and Southfield in Detroit.

Second Battallion Chief Shawn McCarty calls it a tradition for firefighters."It's not mandatory, it's voluntary," he says. "You come in bearing gifts. The usual gift is doughnuts, but you are allowed to bring whatever you want to bring in."
Pattison brought a WATERMELON. A racist watermelon or so the story goes. This is why we need Black Lives Matter. That is a joke they're actually fighting against one of the least problematic groups "killing" their communities.
And Pattison, a probationary firefighter, decided to bring a watermelon wrapped in a pink ribbon. We're told some African-American firefighters were instantly offended, since 90 percent of the people who work at Engine 55 are black.
Why would people think Watermelons are racist?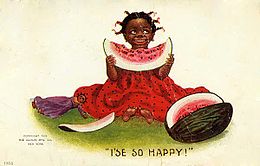 Things like this… The era of blackface and blatant racism 150 YEARS AGO.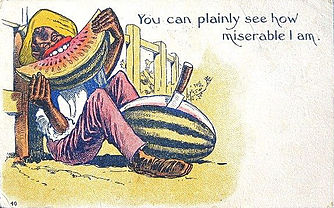 This stereotype also extended to Hispanic people and Crackers. It has more to do with social class than race per say. But, by default minorities can often bare the brunt of negative social stereotypes regarding class and income bracket.
The Democratic party wouldn't have a platform without victimhood. So, the long since healed scars of the past must be brutally reopened by their "loving" liberal champions. That is why watermelon is still "racist" – except it is not.
Watermelon is not racist. Furthermore, most people love watermelon. I genuinely don't recall ever encountering anyone who disliked watermelon.
But, that didn't stop probationary firefighter Robert Pattison from losing his job. He was fired for being an insensitive racist despite explaining he didn't mean anything offensive by his gift.
FOX 2 spoke to Pattison by phone, who claims it was not a joke – and he did not mean to offend his fellow firefighters. But he clearly did. Fire Commissioner Eric Jones says the Fenton native was officially discharged.

In a statement Jones says: "There is zero tolerance for discriminatory behavior inside the Detroit Fire Department. On Saturday, Sept. 30, 2017, at Engine 55, a trial firefighter (probationary employee) engaged in unsatisfactory work behavior which was deemed offensive and racially insensitive to members of the Detroit Fire Department.

"After a thorough investigation, it was determined that the best course of action was to terminate the employment of this probationary employee."
You can now lose your dream job for bringing watermelon to work. Now You know.
STOP viewing people as human beings. Look at the color of their skin then treat them differently. That is the new/old liberal way.