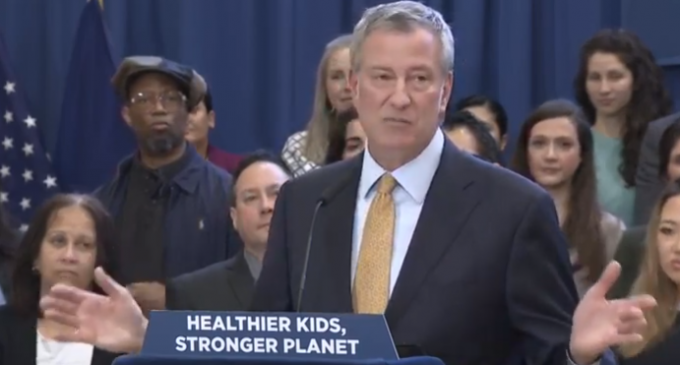 New York City Mayor Bill de Blasio said Monday that all public schools in the city will have "Meatless Mondays" beginning in the 2019-2020 school year in order to "cut back greenhouse emissions" by serving more fruits and vegetables and less beef.
Talk about misplacing priorities. Financial experts said this month that New York City could very easily go bankrupt for the first time in more than 40 years if a recession hits due to inflated public sector spending and high taxes.
"The city is running a deficit and could be in a real difficult spot if we had a recession, or a further flight of individuals because of tax reform," economist Milton Ezrati told the New York Post.
"New York is already in a difficult financial spot, but it would be in an impossible situation if we had any kind of setback."
The last time New York was close to bankruptcy was in 1975, and de Blasio wants to focus your attention on eating vegetarian.
Move to page 2 for details.