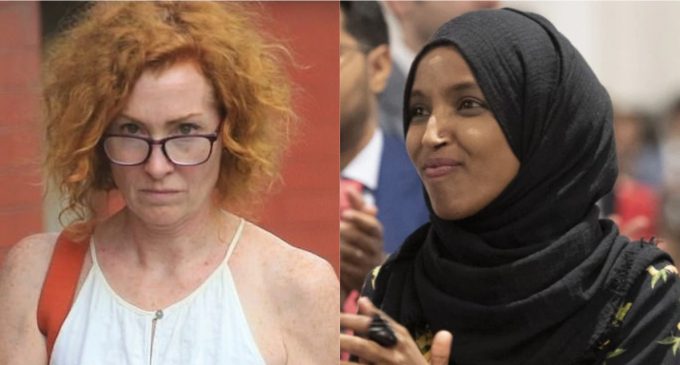 Minnesota Representative Ilhan Omar is certainly not in want of controversy over her marriages. Dr. Beth Jordan Mynett, the wife of a leading left-wing political consultant has alleged that her husband, Tim, has been having a months-long affair with freshman congresswoman, who is also married.
According to divorce papers submitted in DC Superior Court on Tuesday and obtained by the New York Post, Dr. Mynett was informed by her husband back in April that he was cheating with Omar and that he made a "shocking declaration of love" for the Somali-born congresswoman and mother of three before he ditched his wife.
The physician, 55, and her 38-year-old husband — who has worked for left-wing Democrats such as Omar and her Minnesota predecessor, Keith Ellison — have a 13-year-old son together.

"The parties physically separated on or about April 7, 2019, when Defendant told Plaintiff that he was romantically involved with and in love with another woman, Ilhan Omar," the court papers say.

"Defendant met Rep. Omar while working for her,'' the document states. "Although devastated by the betrayal and deceit that preceded his abrupt declaration, Plaintiff told Defendant that she loved him, and was willing to fight for the marriage.

"Defendant, however, told her that was not an option for him'' and moved out the next day, the papers say.

"It is clear to Plaintiff that her marriage to Defendant is over and that there is no hope of reconciliation,'' according to the filing.

The Mynetts lived together for six years before marrying in 2012, the filing said.
The 37-year-old congresswoman has paid approximately $230,000 to Tim Mynett and his E. Street Group through her campaign since 2018. "Defendant's more recent travel and long work hours now appear to be more related to his affair with Rep. Omar than with his actual work commitments," the divorce filing alleges.
As is widely known, Omar's own marriage has been under scrutiny amid allegations that she married her own brother and committed immigration fraud.
In July, she split with her husband, Ahmed Hirsi, for the second time and moved into a luxury penthouse apartment in one of Minneapolis's trendiest neighborhoods.
Source: NY Post