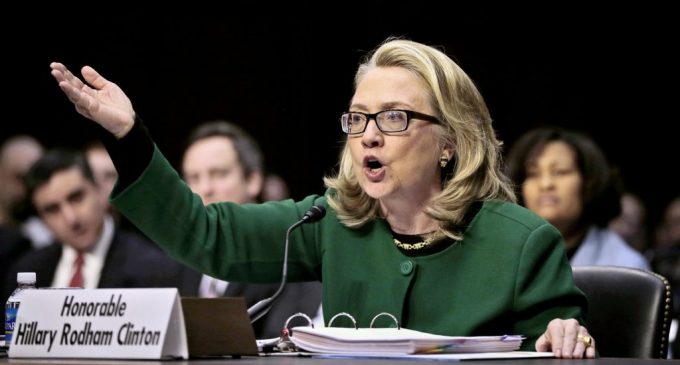 A startling discovery by consumer watchdog group, Judicial Watch, has led the organization to enter into a lawsuit against the State Department regarding two new emails with implications for both former president Obama and Hillary Clinton.
The two emails with the subject lines "Quick Summary of POTUS Calls to Presidents of Libya and Egypt," are significant in part due to their timeliness:  they were emailed just two days after the terrorist attack on the Benghazi complex on September 11, 2014.
In its complaint, Judicial Watch detailed the above information while also addressing the fact that the emails could actually divulge what the former president and then-Secretary of State Clinton knew in the aftermath of these attacks.  With so much information already in question as well as a wealth of suspicious email activity to and from Sidney Blumenthal, the small amount of intel contained in the new emails may shed light on why the administration decided to lie about the "spontaneous protest."
After a surprise barrage of appearances on the Sunday news programs, Susan Rice took a lot of heat for her propagation of said lie, but was nothing compared to the firestorm begun by Clinton herself as she shrieked at a Congressman during the hearings "…at this point, what difference does it make?"
Additionally, there was the oft referred to "Candy Crowley Moment" during the campaign debate between Obama and Republican presidential candidate Mitt Romney where the Leftist moderator stepped into the debate to field a question for Obama as he stumbled over the answer in order to bail him out from an awful performance.  That has become a pivotal moment in American debate annals as what not to do as an "impartial" moderator.
The non-profit Judicial Watch shored up its complaint to the federal judge by arguing that the State Department had no right to redact those specific emails under a special exemption called "deliberative process" because it had failed to initially identify them as containing Classified material.  The State Department issued a statement claiming that they had mistakenly released those particular emails with the rest in the batch, but had not properly identified them as Classified and therefore, they were redacted for that purpose, with the intent of keeping them secret.
The federal judge did not buy that argument and sided with Judicial Watch, which made an explosive remark that the Department was deliberately stalling the process in order to protect Obama and Clinton.